Cakes And Date Slices At Craft Fair
Each month there used to be a Cake and Craft Fair at the Hub On The Green in Exeter – it is now closed, unfortunately. People came for tea or coffee and yummy cakes were made by some of the best cake bakers in the city! People loved the chat, the atmosphere and the great cakes. They also loved to look at the medieval ceiling as the Hub was located in a medieval hall with fascinating carvings on the ceiling from wood dated at about 1450.
Of course lots of delicious cakes, to me means finding out about how people make the cakes, how people cook them and the story behind them.
I had been meaning to make some date slices for some time and hadn't quite got round to it, so I was delighted to try these lovely date slices cooked by Rachel.
Recipes That Stand The Test Of Time
She has been making the slices for many years. In fact her (grown up) daughter told me that she remembered them from childhood.
And recipes that last that long usually mean that a recipes not too fussy to make and tastes really, really good! After all we eat many, many things in childhood but only hold a special chose in few in our memories.
It could be sometimes that the things we remember are associated with a special event, like a birthday or other celebration.
Or it might just be a general remembrance of home.
Sometimes its the smell and of course the smell of baking is loved by most people – whether bread, cake, biscuits or date slices!
So of course I tried one (or may be two!!) and I was not disappointed! Fab texture, just the right amount of sweetness and plenty of dates. Rachel was generous enough to give me the recipe. She also added that you can make the slices with apricots or other dried fruit and she has even used mincemeat at Christmas time. I like that idea – they may get added to my Christmas repetoire!
The recipe originates from a Delia Smith recipe but has been adapted a little along the way
Whole Oat & Date Slices Recipes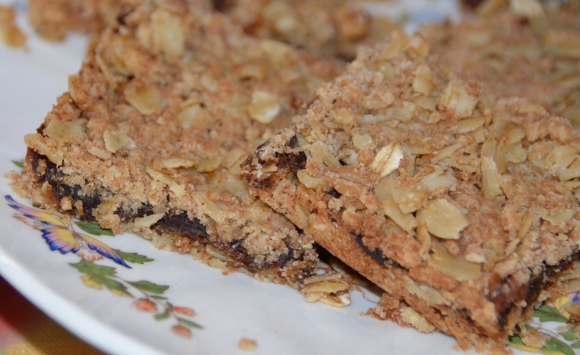 Ingredients
150g / 5oz

Whole jumbo oats

150g/ 5oz

wholemeal flour

85g / 3oz

muscovado sugar

150g / 5oz

butter

1.5 teaspoon

baking powder

1-2 teaspoon

cinnamon (freshly ground if poss)

1lb / 450g

dates

* You will also need 2 of 28cm x 18cm baking tins, well greased *
Cooking Directions
Simmer the dates in water for about 10 minutes until soft
Preheat the oven to 180 degrees C
Put the oats, flour, sugar, cinnamon and baking powder in a bowl
Rub in the butter
Sprinkle half the mixture over the bottom of the tin
Press down to form a base
Arrange the filling carefully and evenly over the base
Sprinkle over the remainder of the oat mix evenly over the fillig
Press down firmly all over
Bake in the oven for 30-40 minutes
Leave in the tin to cool for 10 minutes
Cut into squares and cool on a wire rack