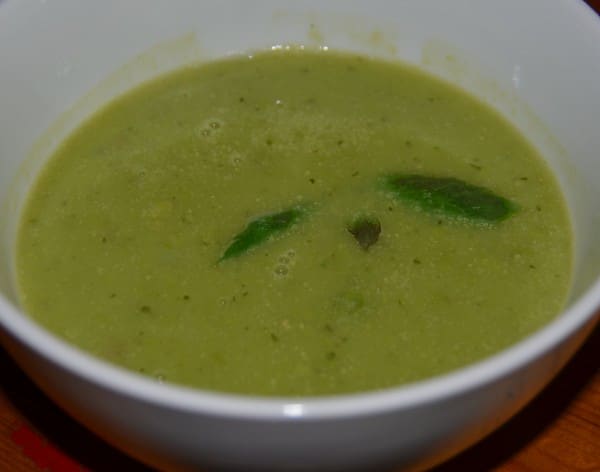 Soup Heaven – Pea And Mint
Pea and mint soup is delightfully simple and can be made quickly and simply with ingredients you probably have in your kitchen most of the time.
Although fresh peas straight from the pod and fresh mint leaves from your garden are ideal, this soup can also be made with frozen peas and dried mint. So you have a nutritious soup that you can make at any time. And at very low cost.
I also add a potato for extra flavour and body. This is optional or you could try adding other vegetables such as carrot and / or celery. Or even had a couple of handfuls of rice to make it a little more substantial. Alternatively, just make it with peas and onions, but use just a little less stock.
Pea and Mint Soup can be made from fresh ingredients but it can equally made with ingredients you probably have in your cupboards or fridge
Serving Suggestions
Serve the soup on its own, or may be with a swirl of cream and yoghurt. It is also delicious with a bit of grated cheese. Best of course with some great tasting bread – home made or good bread from a bakery.
Easy, Low Cost Vegetable Soup
Pea and Mint Soup is not only easy but very low cost too being around £1 for four people. Perhaps a little more if you add any cream or cheese. It can be served as a delicious first course of a dinner party or for a tasty, warming lunch.
Soup Makes Great Packed Lunch
In the autumn and winter, soup is ideal to take in a thermos flask for lunch in the office or at school. It is nutritious, low fat and full of vitamins, as well as taste. Pea and Mint so is colourful too with that delightful fresh greenness!
A great money saving idea is to take your own packed lunch to work rather than buying sandwiches or soup from cafes or sandwich shops. Think of the savings you will make, not to mention that you could be the envy or your colleagues as you pour out your delicious home made soup! It also means you can have exactly what you want for lunch. That little bit of effort before you go to work is well worth it when you don't have to brave the cold to go out to the shops at lunch time too!
Soup Variations
If possible use fresh mint leaves. Mint plants are very easy to grow and its great to have a handful of mint leaves available to add to peas, potatoes and indeed Pea and Mint Soup.
Because you can use frozen and store cupboard ingredients this is an all year round soup and is a great fall back if you fancy soup but have no other vegetables available, apart from frozen peas in the freezer.
Make Ahead And Freeze
Most soups are ideal for making a large batch and keeping in the fridge – or freezing. It's so good to have ready made soup just waiting to be heated up. Ideal for when you are working form home and are having a busy day. Perhaps you would rather go for a walk than spend time cooking.
Get your exercise and then return home and heat up a bowl of soup – what could be nicer!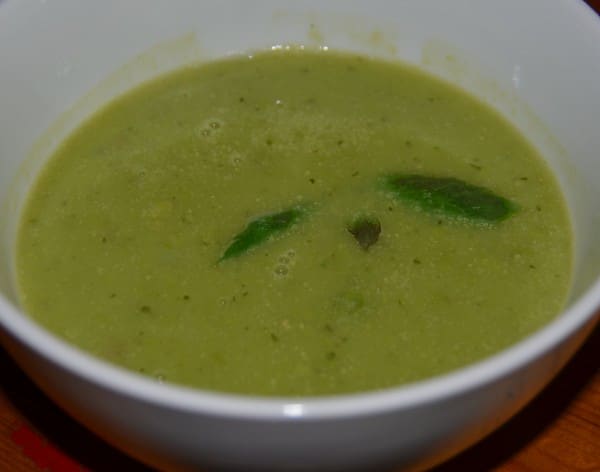 Pea And Mint Soup
Ingredients
1

medium

onion

peeled and finely chopped

1

tablespoon

olive oil

1

small potato

peeled and chopped

750

g

peas

fresh or frozen

750

ml

vegetable stock

5

sprigs

fresh mint leaves -or-

1

teaspoon

dried mint leaves

4

tablespoons

cream

optional
Instructions
Place the olive oil in a large saucepan

Heat and add the onions

Cook for a few minutes

Add the potatoes

Saute for a few minutes and then add the stock, peas and mint

Bring back to the boil and allow to simmer for 20 minutes.

Put into a liquidiser, saving a spoonful or two of the vegetables for texture if liked

Whizz up the soup to a liquid and add back to the pan

Add back the reserved vegetables.

Reheat stirring all the time

Serve in bowls, garnished with a swirl of cream and a sprig of mint, if liked