Summer Soup
In late summer and autumn the fennel bulb often appears in veggie boxes and is available in more local and 'real' food shops. As it is one of those vegetables that is not always freely available in the supermarkets, people are often less familiar with it. It is a very nutritious vegetable as well as being very flavourful. It is a plant where the seeds, foliage and bulb can all be used.
Fennel is a less well known late summer/ autumn vegetable. It's nutritious and delicious. Use fennel in soup, salads, stews and pasta dishes
What Is Fennel
Fennel is a root vegetable. Fennel was known to the ancient Greeks and Romans and it was used in medicine. Originating in southern Europe it is now commonly grown in Northern Europe. It does sometimes get called anise but the anise is a different plant
I hadn't used it much in the past so I am working on a few recipes while it is still in season.
Fennel In Soup
Fennel can add flavour to a number of dishes including pasta, stews, salad and of course soup. How much you use will vary as to how much you love the taste. I must admit that the aroma of the soup itself was really delicious when it was cooking, being slightly sweet with a lovely depth to it. I used just one fennel bulb when I cooked it but I think two would give a more robust fennel flavour.
The flavour of fennel is often likened to that of anise, but it really does have a flavour of its own, in my opinion, and that description doesn't quite do it justice. I am actually not fond of anise but I love the flavour of fennel. Fennel in soup gives a more subtle flavour that really has a depth and warmth – so do try it even if you aniseed flavour really isn't your thing!
For some ideas of using fennel – and how to prepare it see this good video.
No Waste With Fennel
The good thing about fennel is that you can use all of it – the bulb and the fronds. The feathery bits on the top make a great garnish too and can be added to salads, tasting very much like dill, or to the top of your soup as in the picture above. When chopping the fennel, just remove the rather solid and fibrous core at the bottom and in the centre of the plant, and any outside leaves that seem too tough or blemished.
Fennel Soup
This is an ideal autumn soup using potatoes, flavoursome carrots and fennel along with onion and garlic. I added a little milk to the stock to make it a little creamier and a swirl of cream to serve would make it seem positively indulgent! Costing around £2 for four to six people it is a low cost soup too.
Soup is always a good way to use up vegetables, bring out great flavours and provide a nutritional, warming light meal perhaps for lunch. It is great to pop in a thermos flask for a lunchtime treat that will warm you through and sustain you for the afternoon. You just know it does you good as you taste it!
Potato, Fennel And Carrot Soup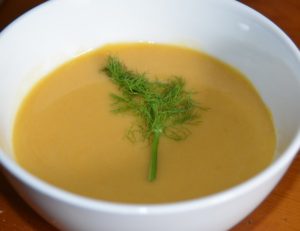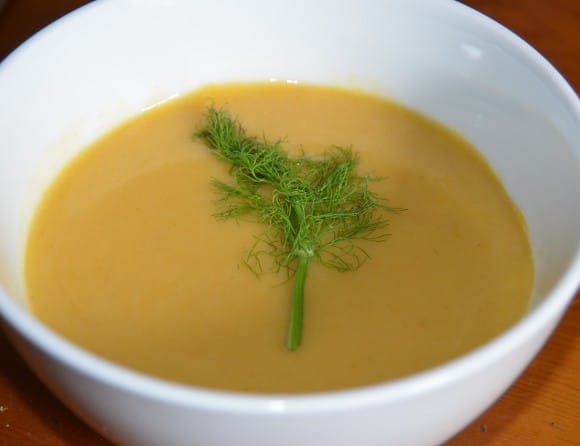 Ingredients
1 tablespoon

olive oil

1 large

onion, peeled and chopped

2 cloves

garlic, peeled and chopped

2 bulbs

fennel, chopped, saving foliage

2-3 medium

potatoes, peeled and chopped

2 large

carrots, peeled and chopped

700ml

vegetable stock

200ml

milk

4 tablespoons

cream (optional)
Cooking Directions
Heat the olive oil in a large heavy bottomed saucepan
Add the onions and fry gently for 3-4 minutes
Add the garlic and cook for a minute
Add the fennel
Add the potato and carrot and cook for 2-3 minutes
Remove from heat and add the stock
Bring to the boil and simmer for about 15 minutes
When all the vegetables are soft, liquidise until smooth
Add the milk and reheat
Serve with a swirl of cream and a small sprig of fennel foliage