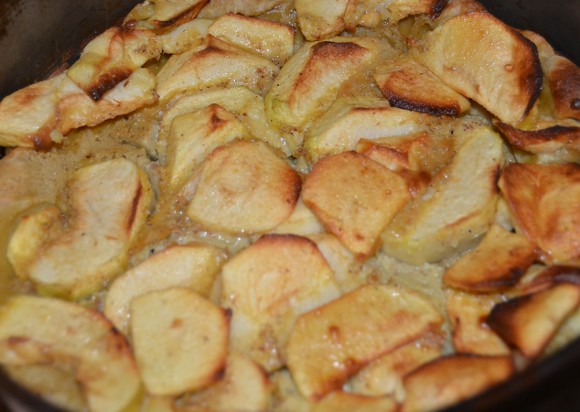 Autumn Apples
In the autumn when apples are in season, it's good to look around for lots of ways of using this delightful British fruit. Alongside the traditional Bramley apple there are other cooking apples such as the Newton Wonder and the English Codlin.
When apples are in season in the autumn, make the most of them by trying out some different desserts like this Apple Clafoutis – easy to make yet impressive!
Apple Varieties
Are the traditional varieties getting a revival? They may be more evident in the greengrocers shops. Supermarkets seem to just have Golden Delicious, Granny Smiths, Braeburns and Pink Ladys for eating apples and many of them aren't even grown in this country.
Cooking apples in supermarkets seems to be limited to Bramleys – lovely though they are, but there are an enormous number of English varieties that we hardly ever see. Go to your local farmers market, farm shops and local fruit producers and see what you can find. There is even an Apple Day each year on October 21st to celebrate this wonderful fruit that has, according to the proverb, been keeping the doctor away for a very long time.
I remember when I was little I had a card game of apples and pears that depicted all the different varieties so I knew the names of many. Like Worcester, Discovery, Pippin and russet. Some apples keep better than others – ask your supplier about the type that you are buying.
Apple Desserts
Once you have your cooking apples, Bramley or otherwise, there are many apple recipes to try Apple Snow, Apple Crumble, Apple cake to name but a few. And you don't have to stop at the sweet – apples are great as a savoury accompaniment to sausages or the traditional apple sauce. You can even make Apple Butter – a concentrated sauce to spread on sandwiches or use in cooking
Clafoutis is a recipe originating in France, based on fruit in a batter. It is wonderfully easy to make and provides a delicious dessert. It is lighter than some puddings and contains no butter or margarine, which is always a plus in my book.
Apple Clafoutis Dessert
You will need to cook it in a cake tin, or baking dish. Choose a deep cake tin as an ordinary sandwich tin will not be deep enough. Don't use a lose bottomed tin as the batter is quite a thin liquid and it is likely to leak!
If you want a beautifully presented apple flan, slice your apples carefully and arrange them in a circular way in the tin. Or just slice thinly and arrange how you like. You could alternatively use pears, cherries, apricots or cherries. Add some sultanas to the fruit too.
This dessert can be served hot or cold. It's lovely on its own but of course can be served with cream, ice cream or yoghurt.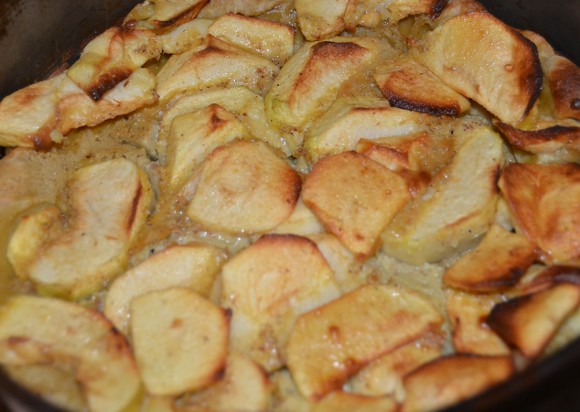 Apple Clafoutis
Ingredients
85

g

plain flour

85

g

caster sugar

3

eggs

beaten

300

ml

milk

1

tablespoon

brandy

optional

500

g

cooking apples

1

teaspoon

mixed spice
Instructions
Pre-heat the oven to 200 degrees C

In a bowl mix the flour and sugar

Add the eggs and milk

Whisk together until it forms a smooth batter

Add the brandy if using

Set aside

Peel and core the apples

Slice into neat similar sized slices

Grease the cake tin or baking dish

Arrange the apple slices over the base of the tin

Sprinkle with the mixed spice

Pour the batter over the apples

Bake in the oven for about 30 minutes or until brown and risen

Serve hot or cold