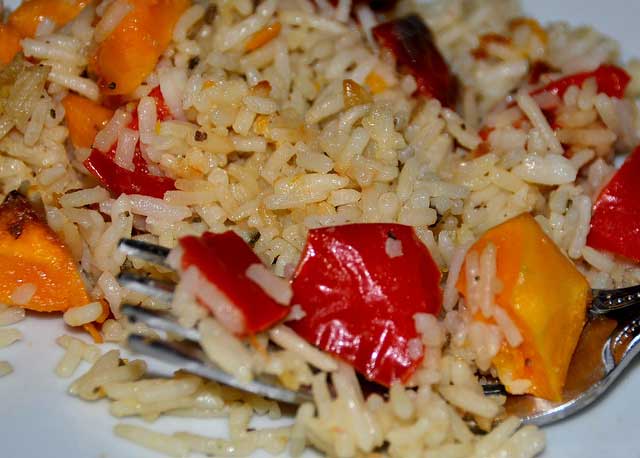 Autumn Squash
In the Autumn butternut squash – and other squashes – are available. Squash are relative newcomers to the British diet and are unfamiliar to some people. I certainly never remember having it as a child and yet now it is freely available in the shops in the autumn months – and there are many different varieties. If you can, do try to buy locally grown vegetables, to support local producers – for taste and economy.
Butternut squash is a fabulous Autumn vegetable (well fruit technically) that can be used in all sorts of warming recipes including this recipe with rice and sage
Butternut squash originated in Mexico but is now grown all over Europe – including the UK. You can often find it a Farmers Markets and local greengrocers. They are truly delicious – sweet and full flavoured. It is good in soups, casseroles in tarts and risottos.
A Versatile Vegetable
Well it's a fruit, actually as it has the seeds on the inside. Butternut squash has a nutty, creamy, sweet flavour that can be used in all sorts of ways. Simply roast in the oven by removing the seeds and placing in the oven (the seeds themselves can be toasted too). Stuff it with any number of mixtures including cheesy mixtures, tomatoes or rice. It is good with pasta, with nuts and with pulses. Great for warming soups too or as a mash for an alternative for potatoes on top of cottage or shepherd pies.
Squash is very easy to cook as the ideal thing is to roast it in the oven – either whole or chopped into cubes as in this recipe. Because it is so flavourful itself, it needs little extra, although I do like it with sage. Whichever way you cook it, squash is a great vegetable for warming easy, tasty suppers on a cold day. A great store cupboard staple that Mary Gwyn recommend in The Busy Mum's Cookbook.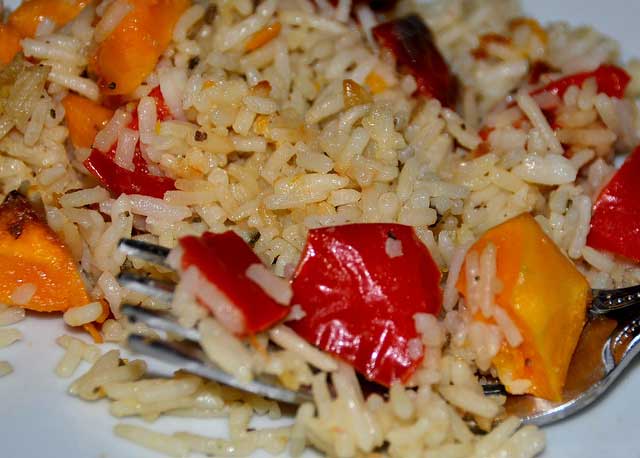 Butternut Squash And Rice Recipe
Easy Supper With Rice And Vegetables
Ingredients
1

medium butternut squash

1

medium onion

1

red pepper

500

ml

stock

2

teaspoons

dried sage or

few sprigs fresh sage

300

g

basmati or long grain rice

50

g

grated parmesan cheese

Freshly ground black pepper
Instructions
Cooking Directions

Pre-heat the oven at 180 degrees C

Half and the quarter the butternut squash

Scoop out the seeds and discard

Peel the squash and chop into bite-sized chunks

Place in a large baking dish

Peel and slice the onion and add to the baking dish

Slice and de-seed the pepper and add to the baking tray

Drizzle with the olive oil

Stir well to cover the vegetables with oil

Bake in the oven for about 30 minutes until squash is soft

Meanwhile place the rice in a pan and wash with cold water and drain

Stir the sage into the stock and add to the rice

Bring to the boil and simmer for 20 minutes until most of the stock has been absorbed and is cooked

Stir the rice in with the vegetables

Sprinkle over the parmesan cheese and stir

Return to the oven for 5 minutes

Season with freshly ground black pepper

Serve Hot