Good Soup
Good soup is hard to beat. And it can be made with the simplest of ingredients. I often make up my own soups using the ingredients I have in the fridge or cupboard. However it is also good to have some specific recipes so you get great results every time. And of course the best recipes get cooked time and time again. this recipe was give to me by Verity
Verity says:-
This recipe was given to me years ago by a friend with Italian heritage, hence the amount of olive oil. The taste of it works really well especially with a good ciabatta type bread.
The soup freezes really well, so I tend to double the recipe and cook it in my jam pan and then portion out individual servings into sandwich bags and pop into the freezer.
A Simple,Substantial Bean Soup Recipe
This soup uses the delightful flavour of black eyed beans (or peas) and only uses carrots, passata, celery and olive oil to flavour, plus a little seasoning. It is a simple – and very low cost soup, easy to make and beats the socks off any ready made soup.
A soup like this is substantial enough to even become a meal if you are in a hurry, or a really filling and satisfying lunch for a cold winters day. Put some in your thermos flask and take to work – makes a wonderful change from a sandwich!
Low Cost Soup
A pack of 500g of black eye beans is about £1 and this soup uses half the pack so just 50p. With the other ingredients the total cost is around £1 to make a substantial soup that can feed 4 people generously and leave them full up through the afternoon.
This could of course be made with a couple of tins of black eye beans to save on the soaking for only a little extra money – the choice is yours
A 'Free-From Soup
This is a soup that has no problems for people looking for dairy free, wheat free or gluten free diets. Verity, is on a wheat free diet and some of her family also require a dairy free diet so she is always on the look out for good 'free from' food. The lovely thing about a lot of the food she cooks is that no one would realise that it is part of a 'free-from' diet as it just tastes like really good, every day fare.
Black Eyed Bean Soup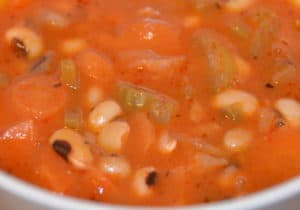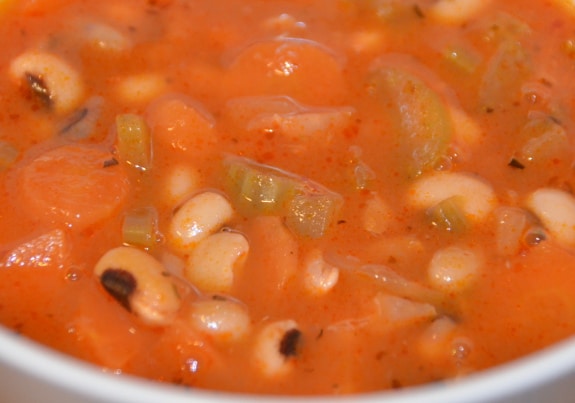 Prep time: 10 minutes + soaking
Cook time: 60 minutes
Total time: 70 minutes
Ingredients
250g / 8oz

dried Black Eye Beans

1

large onion, chopped

2

medium carrots, chopped

2

stalks celery, finely chopped

1

mug passata

4 tablespoons

good olive oil

Pinch

sea salt and freshly ground black pepper

1 teaspoon

mixed herbs
Cooking Directions
Put the beans in water to soak the evening before cooking. Make sure the pan is large enough as the beans will double in size.
Next day, drain the beans and cover with fresh cold water.
Bring to a rolling boil.
Drain and cover with fresh water again adding in the rest of the ingredients.
Let the soup simmer for about 1 hour.
Season.