Special Carrot Soup
This is a carrot soup with lentils and rice and extra flavour. It is a little more special than the basic soups and has a few more ingredients but the result is a really tasty soup, with the sweetness of the carrots, the creaminess of the coconut milk, the tanginess of lime and all with some added spice! Thisis a substantial soup that can be a main meal.
This recipe was given to me by Verity, who generally cooks a wheat free and dairy free diet for her family. She is always looking for tasty new recipes ad her cooking proves that there is no need to for there to be any restrictions on taste in a diet free from dairy. The coconut milk adds plenty of creaminess and this soup is full of vitamins and nutrients!
Verity says:-
I copied this soup recipe from a newspaper years ago. It's our family's very favourite soup. Great for a free from recipe as it uses coconut milk and the rice and lentils to thicken.
Filling And Warming Soup
Lentils and rice add thickening for the soup so there is no need for any flour and this soup is warming and filling as well as really flavourful. Of course you can adjust the spice content to suit your own tastes. This is a lovely lunchtime soup
Soup – Great When On A Budget
People who are looking to cut down expenditure – and maybe eat more healthily too – could do much worse than make up some batches of soup for lunchtime. If you work away from home, you can put some in a thermos or even put it in a container to be heated up in the microwave. Make it at the weekend and you have an instant lunch all week!
And Good For You Too!
Soup contains so many vitamins and really contributes to your 5 a day too – effortlessly. All the nutrients of the vegetables are kept, since the vegetables are cooked in the soup stock which of course remains in the soup rather than being thrown away as it often is when you boil vegetables to go with your meal.
Carrot Soup Your own Way
If you don't have all the spices or vegetables – go with what you have in the cupboard. Use the vegetables you do have, use lemon instead of lime or miss it out altogether, use milk instead of coconut milk. Use it as an idea and give it your own flourish!
Verity's Carrot Soup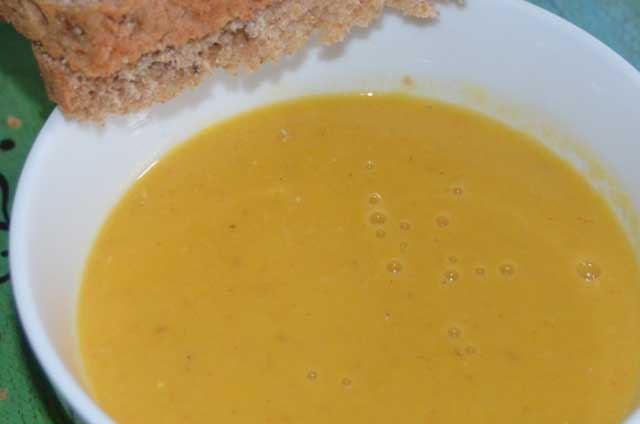 Ingredients
25g / 1oz

unsalted butter/ dairy free spread

1

thumb size piece of ginger, grated

1/4 tsp

ground allspice

1/4 tsp

ground Cumin

1/4 tsp

chilli powder

1/2 tsp

curry powder

1/2 tsp

ground coriander

2

onions, finely chopped

1

parsnip, chopped

2

stalks celery, sliced

500g / 1lb

carrots, sliced

45g/ 1.5oz

red lentils, rinsed

25g / 1oz

rice

1 litre

stock

400ml

can coconut Milk

1

lime, juiced

pinch

black pepper
Cooking Directions
Melt butter/spread in a large heavy based saucepan and add ginger and all the spices.
Cook over a low heat for a few minutes, stirring all the time.
Add in all the vegetables, stir and cook for about 10 minutes until all coated.
Stir in rice and lentils and then stock.
Bring to boil and then simmer for about 30 minutes.
Blend soup until smooth.
Return to heat, add coconut milk, lime juice and freshly ground black pepper.
Heat through, but do not allow to boil.