Inspiration To Make A Lemon Meringue Pie
Recently, whilst on holiday, I tried a Lemon Meringue Pie in a cafe that looked totally delicious but was really quite a disappointment, especially when it was a National Trust cafe! It 'flattered to deceive' might have been an apt description.
I had not made a Lemon Meringue myself for some years, but resolved at that moment to change that and get busy working out how to make the best pie I could. I wanted it to be really 'lemony' and not too sweet – and of course it has to be quite easy to make.
Lemon Meringue Pie is easy if you make it one step at a time – Looks great and so delicious, it is bound to impress your friends and family!
Easy Lemon Meringue Pie Research
I studied a few recipes, and as I often find, some recipes were just too fussy. Others clearly did not have enough lemons in it! So the recipe below was a combination of other recipes. It took two attempts to really perfect it, but I certainly enjoyed trying, testing the results.
Clearly there are three parts to making a Lemon Meringue Pie. The first is the pastry and you can find more on pastry making in How To Make Pastry. I used white flour for the pastry and I did bake it 'blind' before putting the filling in.
The second is the filling. Gentle heating and constant stirring are the key words here. I used three lemons, some recipes only use two, but I love the really lemony and slightly tart flavour, that contrasts so well with the sugary meringue.

The final stage is the meringue. Go with your instincts and enjoy making this fluffy, sweet, sticky mixture.
Key Hints for Great Meringue:-
Do not get any yolk, not one drop, in the white when separating.
Separate each egg individually in a bowl the pour the white in with the others. That way if you do get yolk in, you only risk wasting one egg. (Of course you won't waste it – use it in a cake or have scrambled eggs!)
Fridge cold eggs separate more easily than room temperature ones
Use a glass or metal bowl for beating and make sure it is completely dry and clean
Beat the eggs whites thoroughly before adding the sugar
Add the sugar a little at a time and ensure it is dissolved into the white
Don't be put off by the apparently long instructions – it really is quite easy. Just take it step by step and you will soon have produced a wonderful dessert!
Easy Lemon Meringue Pie Recipe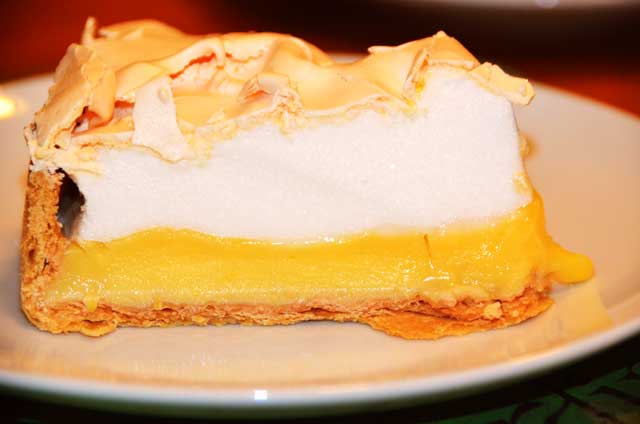 Ingredients
For the Pastry

110g / 4oz

plain flour

50g / 2oz

butter or margarine

2 tablespoons

cold water

For the

filling

3

lemons

3 tablespoons

cornflour

50g / 2oz

caster sugar

150ml / 5fl oz

water

3 large eggs

yolks

40g / 1 1/2oz

butter

3 large eggs

Whites

175g / 6oz

caster sugar
Cooking Directions
Make the pastry
In a bowl rub the butter into the flour, working lightly with your finger tips
Add the water, a little at a time and stir
Gently start bringing the mixture together to form a dough
Add a little more water if required
Form the dough into a ball
Place in a bag in the fridge to 'rest' for about 30 minutes
Meanwhile – grate the zest from the lemons
Cut the lemons in half and extract the juice into a separate bowl
Separate the eggs, putting the white in a large bowl

Blind Bake the Pastry

Grease a 20cm / 7in cake tin
Roll out the pastry and line the tin
Prick the base with a fork
Bake in the oven at 190 degrees C for 25 minutes
Reduce oven heat to 150 degrees C when pastry is done

Make the Filling

Put the sugar and cornflour into a bowl
Pour in enough of the water to make a paste
Put the water and lemon zest into a saucepan and bring to the boil
Pour the water and lemon onto the cornflour and sugar paste, stirring continually
Pour this mixture into the pan and bring gently back to boil, stirring continuously
Remove pan from heat and whisk in lemon juice, egg yolks and butter
Return to the heat and gently simmer, stirring all the time, until mixture thickens
Pour the mixture into the pastry case
Allow to cool
Make the Meringue
With a hand whisk or electric mixer, whisk the egg whites until the form stiff peaks
Add the sugar, a bit a time and continue whisking
When all the sugar is whisked in, spoon on top of the cool lemon filling
Bake in the oven for about 45 minutes
If eating warm, allow to rest for 15-20 minutes before serving