Leek And Potato – Made For Each Other
I love leek and potato – whether in Leek and Potato soup or Leek and Potato Gratin. They are two vegetables that just go together. My recipe for leek and potato gratin has ham in it but I wanted to make a vegetarian version that would be a bit more substantial. And I had the idea of adding chickpeas – and some cumin seeds to flavour.
Tasty, nutritious and low cost recipe for a family midweek meal that is quick and easy to prepare
Low Cost Recipe For Midweek Meal
The result is a really good, wholesome and low cost recipe for a mid week supper – the cost is around £2.50 for four people and it takes just minutes to prepare and the 45 minutes in the oven leaving the cook free to do other things. I served this with sweetcorn, but you could serve with any vegetable of your choice.
In these days of austerity, it can seem hard to manage with rising prices and static incomes so having a few really low cost supper ideas that are not only frugal but delicious can be a real help. Chickpeas are tasty and nutritious and around 70p a can.
Alternatively you can buy a bag of dried peas and soak them overnight, boil till soft the next day (about 2 hours) and freeze in portion sizes ready for use.
You can adapt this recipe to serve as many people as you need.
Chickpeas – Nutritious And Delicious!
The chickpea (or garbanzo bean as it is known in the US) is an ancient food of the Mediterranean and is now associated both with Moroccan and Indian cuisine. It is a tasty legume used widely in salads, curries, stews and of course, hummus.
Leek, Chickpea And Potato Gratin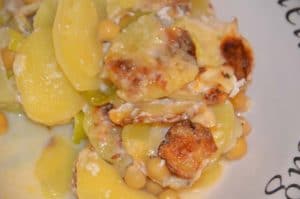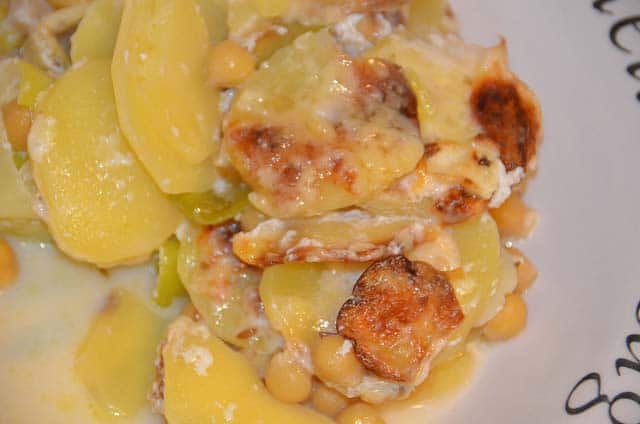 Prep time: 5 minutes
Cook time: 45 minutes
Total time: 50 minutes
Ingredients
4-5

medium potatoes

4

medium leeks

1

400ml tin chickpeas, drained

100g / 3oz

mature cheddar cheese, grated

400ml

milk

2 teaspoons

cumin seeds

2 tablespoons

olive oil
Cooking Directions
Preheat the oven to 180 degrees C
Wash and slice the leeks into rounds
Peel the potatoes and slice thinly
Heat the olive oil in a large saucepan
Fry the leeks for a few minutes until soft and the rings are falling apart
Add the cumin seeds and cook for a couple of minutes
Add the chickpeas and stir
Remove from heat
Grease a baking dish
Line the bottom of the dish with a layer of slice potatoes
Cover with half the leek and chickpeas
Sprinkle with one third of the cheese
Cover with a layer of potatoes and repeat
Cover with a final layer of potatoes
Pour over the milk until it just comes to the top layer of potatoes – adjust quantity accordingly
Sprinkle with final third of cheese
Bake in the oven for about 45 minutes
Check potatoes are thoroughly cooked through
Serve with vegetables of your choice