Blueberry Muffins Recipe
Blueberry muffins must be one of the best treat foods there is! Glorious with tea or coffee and shared with friends! Easy to make too! Moist and using lots of fruit, they beat bought ones any day. This recipe makes 12 muffins that are packed with fruit.
Easy to make and delicious to eat, you may be tempted to use this blueberry muffin recipe again and again!
Blueberries
Blueberries originated in the USA – hence the plethora of blueberry recipes from America, but they have been grown in Europe since the 1930s.
Well known as a superfood, blueberries are a great muffin ingredients since if you are going to have something as indulgent, it's good to have something nutritious in it too. Apart from that it just tastes delicious!
Easy Recipe For Blueberry Muffins
Blueberry muffins are really easy to make, with just 5 minutes preparation time and 20 minutes baking time – and they are best eaten warm!
The blueberry spreads inside the muffins when they cook making them taste rather juicy!
This recipe can be made with any fruit you have too – that is in season so it works as a basic muffin recipe too. Use raspberries, strawberries or blackcurrants.
If you don't fancy muffins, try these Blueberry Cookies instead!
Blueberry Muffins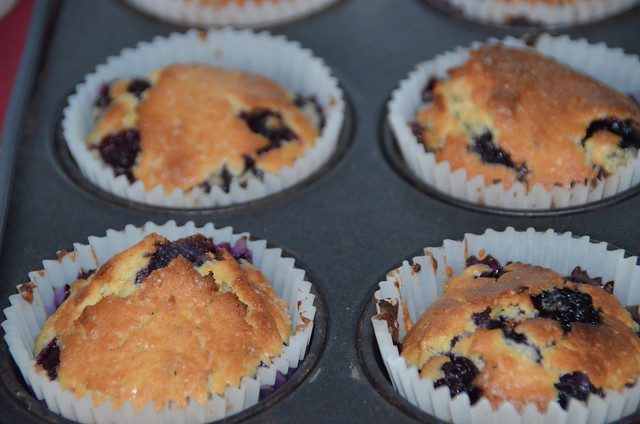 Prep time: 5 minutes
Cook time: 20 minutes
Total time: 25 minutes
Ingredients
225g / 8oz

plain flour

2 teaspoons

baking powder

120g / 4 oz

butter

100g / 3oz

sugar

2

eggs

100ml / 3.5fl oz

milk

200g / 7oz

blueberries, washed and dried
Cooking Directions
Preheat the oven to 180 degrees C
Sieve the flour into a bowl
Add the baking powder and mix thoroughly
Add the sugar
Melt the butter
Beat the eggs and add to the butter
Add the milk to the egg and butter
Stir the eggs, milk and butter mix into the dry ingredients
Stir in the blueberries
Place 12 cake cases into a muffin tin
Using a teaspoon fill the cake cases about 3/4 full
Bake in the oven for about 20 minutes, checking to see if cooked with a skewer. If it doesn't come out cleanly, cook for another 2-3 minutes and check again
Remove from the oven and allow to cool for a few minutes before placing on a wire cooling train
Delightful if eaten while still warm!