Easy Fudge Recipe
Fudge is wonderful to make and very delicious, but can be a little tricky to make and normally comprises very hot liquid and a sugar thermometer. So I was delighted to try out this really easy recipe from Kate – who is an expert in all things sweet and jammy. She regularly bakes for fetes and craft fairs and has won several prizes!
This fudge recipe is so easy to make. You can give some to friends as gifts or let the children make some for their pals or to sell at the school fair
Lucky for us, she is happy to share some of her recipes. I think she like to encourage people to cook from scratch and have fun with the making and the tasting!
I met Kate on Twitter – we have never met in person – and we love to exchange recipes, as well as a bit of chit chat from time to time. Twitter is a fabulous place to get ideas – for food and lots of other things (places to go, knitting patterns, how to solve a problem).
Easy Fudge Recipe – With Condensed Milk
This fudge recipe, uses condensed milk as many fudges do. So I decided to investigate what condensed milk really is. I use evaporated milk often to pour on puddings instead of custard or cream.
Evaporated milk is pretty much – well – what it says on the tin. It just has had 60% of the water removed (or evaporated!) There is no added sugar or added anything barring a few vitamins. So it is more concentrated and has a sweeter taste than fresh milk. It was once a way of preserving milk when fresh milk was not in ready supply. Now it is used instead of cream or as an ingredient in dessert dishes
Condensed milk goes through a similar process but has added sugar, and as such is sweeter and more 'gloopy'. It too is used in a number of recipes such as fudge and ice cream
Cook With kids
Many children like to cook, especially making the sort of thing that they love to eat. This is an ideal recipe to cook with children. It is quick to do and only involves a very little heat. The results can be eaten straight away – although are better if left in the fridge for a few hours!
Plain Fudge Or With Decoration
You can add your own flourish to the fudge. Dip in hundreds and thousands (sprinkles) or mixed nuts. Put an almond or cherry on the top. Add flavourings such as camp coffee, cherries or raisins. Use what you have in the cupboards
I put the fudges in small 'fun size' cake or petit four size cases. You can make the fudge whatever size and shape you like. If you want more traditional squares, place on a rectangular baking tray and score into squares before putting in the fridge.
Leftover Condensed Milk
This recipe will leave you with some leftover condensed milk – enough to make another sweet treat! I made some ice cream – recipe will be available shortly!
Easy Fudge Recipe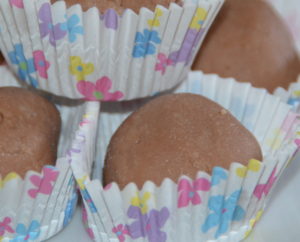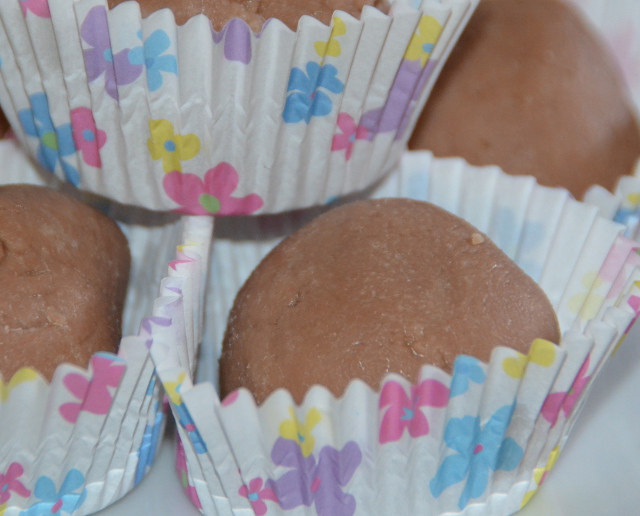 Description: Easy to make fudge recipe with store cupboard ingredients
Prep time: 10 minutes
Cook time: 5 minutes
Total time: 15 min
Ingredients
55g / 2oz

butter

100g / 3.5oz

plain or milk chocolate

3 tablespoons

condensed milk

450g / 1lb

icing sugar

hundreds and thousands

(optional)
Cooking Directions
Break the chocolate into pieces
Put butter chocolate in bowl & microwave 1-2 mins until it melts or melt in a bowl over simmering water
Remove from heat and stir
Pour in the condensed milk and stir
Sift the icing sugar and add half to the choclate and milk mix
Add the rest gradually so you get a dough like consistency
Shape into walnut size balls
Dip into 100's & 1000's or choc strands or other decorative bits
Place in mini cake cases and then put them in fridge
They'll keep well in fridge 3-4 weeks.

Variations:

Use white chocolate, or add couple tablespoon Camp coffee.