Simple Salads
When it comes to salads, I think it is good to keep things simple. Combining just a few basic ingredients can really result in some delicious results. Too many ingredients and competing flavours can spoil things. My son always says that no dish should have more than 3 or 4 things in them and there are times when I agree.
There are an infinite number of ways different ingredients can be combined, so go with the flavours that you like and those that you think complement each other. And keep it simple!
This feta cheese and pasta salad recipe is simple and delicious. Great to have for a lunch or as part of a main course salad
Easy Feta Cheese Salad
This easy feta cheese salad recipe is simple and full of flavour and can be made very quickly. It is really low cost too! Compare the cost of this salad with that of a similar commercially made salad – and the quantity! And you know exactly what has gone into this salad so there are no hidden, unwanted extras.
Use the recipe as a guide with the quantity of each ingredient – you may like more, or fewer olives for example – and vary it according to what you have available.
Pasta Salads
I love pasta salads because the flavours cling to the pasta when it is still warm. The salad benefits from being left for a few hours before being eaten. The taste gets better after it has been stored for a few hours or more. This is an ideal dish to take along to a barbeque or picnic or to include in a packed lunch.
Use the pasta shapes that is your favourite. In this recipe I have used penne, but you could use fusilli or shell shapes. Try it with wholewheat pasta too.
Cook the pasta just before you are ready to make the salad as the flavours are better absorbed if the pasta is still warm when you stir in the other ingredients.
How many this will serve really depends on how many other salad dishes your are serving alongside it. If I am making a buffet or salad I like to offer a variety of dishes, so there is something for everyone. And leftovers are wonderful for lunch for another day.
NB Don't forget that if cooking for a vegetarian, substitute the Parmesan cheese (which contains the animal derived rennet) with a vegetarian hard cheese.
Feta Cheese, Olive And Pasta Salad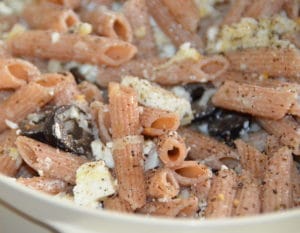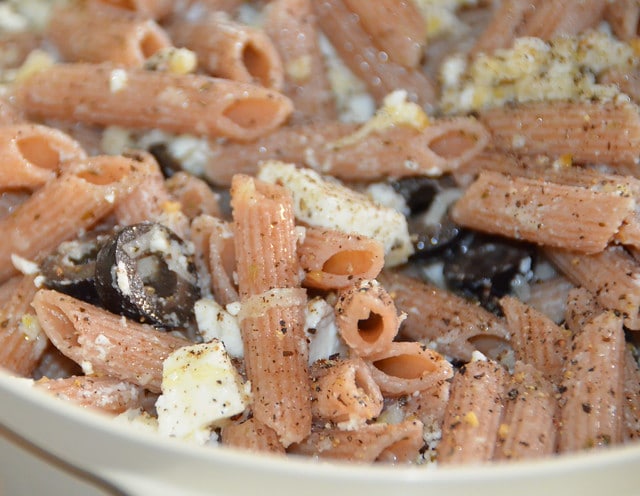 Ingredients
200g /7oz

pasta shapes

30g / 1oz

Parmesan cheese, grated (or vegetarian cheese)

2 tablespoons

olive oil

85g / 2.5oz

black olives, sliced

a handful of basil

leaves, torn or 1 teaspoon dried basil

125g / 4 oz

feta cheese, cubed

1 teaspoon

garlic powder or crushed garlic clove

Freshly ground

black pepper
Cooking Directions
Cook the pasta in boiling water for 10-12 minutes
Drain pasta and place in a bowl
Pour in olive oil and stir
Add olive and grated parmesan and stir
Add basil, garlic and black pepper
Add the feta cheese
Cover and put to one side until cool and then refrigerate until required