Vegetarian Chilli With Beans – Easy Meal
People who read this blog regularly will know that I love simple, easy meals – especially when they are low cost too and this vegetarian bean chilli recipe certainly fits the bill! I really like beans and pulses as they are low cost, tasty and nutritious.
This recipe uses tinned beans – great for an easy quick meal. I am also very much an advocate of buying dry pulses too as they are cheaper but they require a little more preparation time. They need to be soaked overnight and boiled for an hour or two before they are ready to go in a recipe. It is, of course, a good idea to make a large batch and then freeze them in portions of about 250g each.
Vegetarian bean chilli recipe is low cost, easy to make and delicious. What's not to like?
Vegetarian Chilli With Beans
I generally keep some tinned pulses in the cupboard as standbys and I usually have a variety, so I can easily make a quick meal. My favourites are probably chick peas, red kidney beans and cannellini beans.
With some pulses and a few vegetables, a good, nutritious and low calorie meal can soon be put together.
This vegetarian chilli recipe is really delicious. Serve with rice or tortillas or a baked potato. It is also good served with a blob of sour cream if you have some.
Low Cost Family Meal
This recipe costs around £3.50 to serve 4 generously with rice. Make twice as much as you need and keep some in the fridge for a couple of days to heat and serve again – or freeze for another day when you can't be bothered to cook. It's one of those recipes that tastes better when it has been left overnight and is reheated
If you don't have any fresh chillies a teaspoon of chilli powder or chilli flakes will do instead (or more or less depending on how hot you like your food to be)
You can use different beans too – pinto beans for example or two tins of kidney beans. Remember to use a recipe as an idea and then use what you have in the cupboard.
Vegetarian Chilli With Beans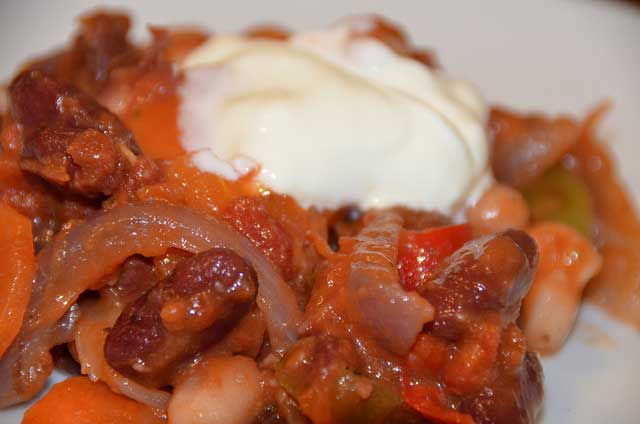 Prep time: 10 minutes
Cook time: 20 minutes
Total time: 30 minutes
Ingredients
2 tablespoons

olive oil

1 red onion

peeled and chopped

2 cloves

garlic, peeled and chopped

1 red pepper

deseeded and chopped

1 medium carrot

peeled and sliced

1 x 400g can

kidney beans

1 x 400g can

cannellini beans

1 medium

red chilli

1 teaspoon

mixed herbs

1 x 400g tin

chopped tomatoes

Sour cream

to serve (optional)
Cooking Directions
Heat the olive oil in a large frying pan
Add the onion and cook until soft
Add the pepper, chilli and cook for about 5 minutes
Add the garlic and carrot and stir to mix
Drain the cans of beans and wash through with water
Add the beans to the pan
Add the chopped tomatoes
Add the mixed herbs
Cover and cook for about 20 minutes, stirring occasionally
Extra delicious served with a spoonful of sour cream
Accompany with rice, baked potato or tortillas