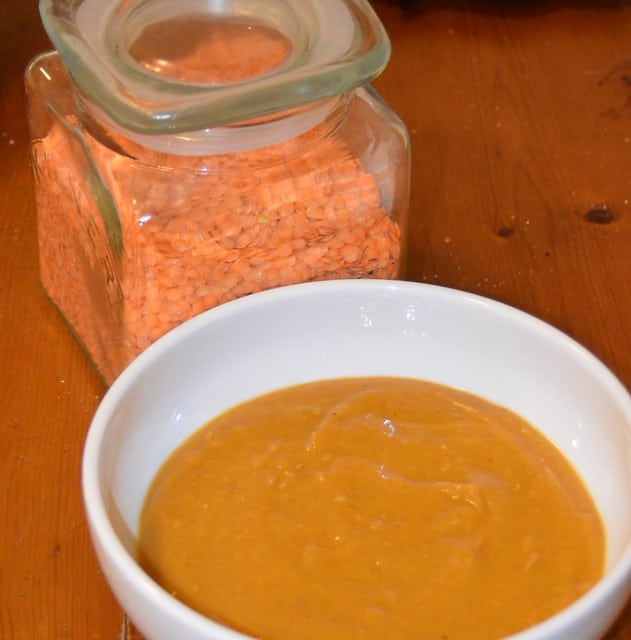 Lentil Soup
There are many recipes for lentil soup. This recipe is my favourite and it uses vegetables that you will easily have to hand. It is really easy to make, low cost and delicious! You can make your own variations for example make it more spicy perhaps with a bit of chilli powder.
Want a lunch that is delicious, easy to make, filling highly nutritious and low calorie? Try lentil soup – simply good food
Homemade Soup
Making soup at home is a great way to get plenty of vegetables in your diet in the most delicious way.
Making this soup is an excellent way to use up any leftover vegetables, or produce that is looking a bit too tired for the dinner table
Lentil Soup – Warming, Filling, Nutritious
This is a warming, filling soup for the colder winter months. It makes a great lunch for anyone watching their calories too and it is full of cholesterol lowering fibre.
Double up the quantities to make some for another day. Put it in a thermos flask and take it for a lunch when you are out or at the office. Much less cost than any takeaway soup and full of vitamins.
From Store Cupboard Essentials
Red lentils are an idea staple in the cupboard. Low fat and high nutrition the can be used for a whole range of meals. Lentil soup costs less than £1 to make for 4 generous servings. Made with vegetable staples carrot, onion and celery and flavoured with tomato purée, if you keep a basic store cupboard, you will almost always have the ingredients.
More Lentil Recipes
If you would like more lentil recipes, you may be interested in 10 Easy And Low Cost Lentil Recipes
Lentil Soup In the Slow Cooker
This is an ideal recipe to put in the slow cooker. Just put all the ingredients in a slow cooker and stir. Cook on high for an hour and then on low for at least 3 hours.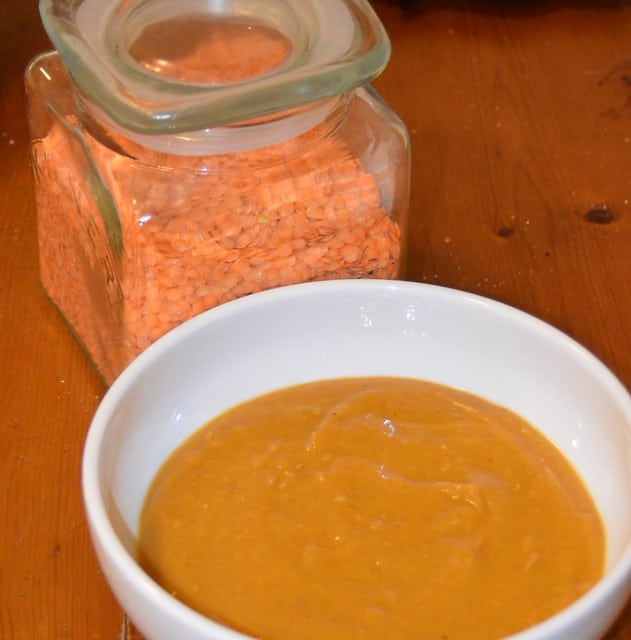 Lentil Soup
Warming nutritious soup with low cost ingredients
Ingredients
1

tbsp

flaxseed oil

1

medium

onion

peeled and chopped

2

cloves

garlic

crushed

2

tsp

cumin seeds

1

stick

celery

thinly sliced

2

medium

carrots

washed and sliced

1

tbsp

tomato puree

1

teaspoon

ground coriander

1

litre

vegetable stock

150

g

red lentils

1

pinch

salt and black pepper

to taste
Instructions
In a large heavy bottomed saucepan, heat the oil

Add the onion and sweat for a few minutes

Scatter in the cumin seeds and cook for a further 2 minutes, stirring occasionally

Add the garlic, celery and carrots

Sweat for a couple of minutes

Stir in the tomato purée and coriander

Stir, bring to the boil and then simmer gently for 30 minutes

Place in a blender or use a stick blender to create a smooth soup

Re heat and season with salt and black pepper to taste