Wheat-Free Lasagne
This Wheat free Vegetarian Lasagne was partly inspired by the Hairy Biker's television programme. I often watch food programmes on television and find that when the subject matter is about weight loss I can't resist. Just recently the Hairy Bikers programme has been re-run where they try – and succeed to lose weight.
It's always inspirational to see people lose weight – especially those who have had a lifestyle for many years that has kept their weight on! I think the most impressive on the programmes was a young woman who told the bikers she had lost 12 stone! It was very hard to imagine her 12 stone heavier!
The Hairy Bikers were cooking up meals that were lower calorie and lower fat but had the same amount of taste as regular cooking. There are some good ideas in what they did and I think the principle is very good.
Vegetarian Lasagne With Leeks
Their suggestion for Lasagne is excellent because not only does it reduce the calories, it makes the dish suitable for people on a wheat free diet. They cooked a meat based lasagne and you can use this idea for a meat lasagne, but I just took the idea and cooked a vegetarian lasagne.
The basic idea is using pieces of leek instead of the lasagne sheets. It means you still have a barrier to pour sauce and cheese on but with much less calories – and wheat free. It's a whole lot lighter too!
I simplified the Hairy Bikers recipe a little as it potentially was a bit fiddly – and I think it was still as good. I just created one layer of leeks as there was only one layer of white sauce and cheese on the top and I made the white sauce a little simpler too.
Lasagne – Adapting Classic Recipes
It's good to try adapting traditional recipes. There are plenty of vegetables in this recipe and lots of flavour and the recipe can be adapted to use the vegetables you like. For example you could add mushrooms, peas or sweetcorn.
Lasagne with leek as pasta sheets is a great idea and I will definitely use this method in the future to reduce the calories, as it does have all the flavour.
Free-From Vegetarian Lasagne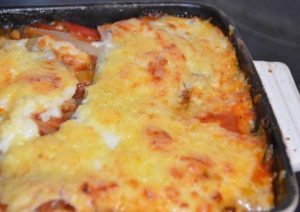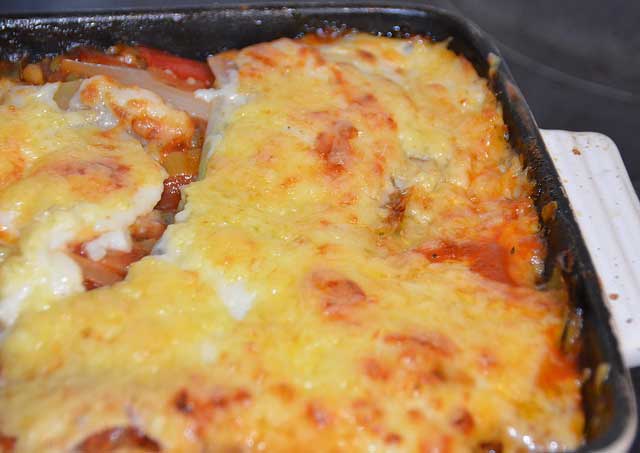 Ingredients
1 large or 2 medium

leeks

200g

green lentils

1 tablespoon

olive oil

1 medium

onion, peeled and chopped

1

red pepper, deseeded and chopped

2 sticks

celery, chopped

1 carrot

peeled and chopped

2 garlic cloves

peeled and crushed

1 400g / 14oz

chopped tomatoes

1 dessertspoonful

tomato puree

1 teaspoon

mixed herbs

250ml

milk

1 dessertspoon

cornflour

1/2 teaspoon

nutmeg

100g / 2.5oz

mature cheddar cheese, grated
Cooking Directions
Place in the green lentils in a saucepan and cover with plenty of boiling water
Bring to the boil and simmer for 30 minutes or according to pack instructions
Chop off the dark green end of the leek
Take it lengthways and slice your knife the full length but only as deep as the centre
Remove the outside layers and put to one side for the 'lasagne' sheets
Slice the inner part of the leek across into rounds ready to add to the lentil mix later
In a large frying pan, heat the oil
Fry the onions and for a few minutes
Add the pepper and garlic cook for 2-3 minutes
Next add the celery, small sliced leek pieces and carrot and stir
Add the chopped tomatoes
Add a splash of water and tomato puree
Stir and add the mixed herbs
Leave to simmer
When the lentils are done, stir into the tomato mix
Put the leek 'sheets' into a pan of boiling water and simmer for 5 minutes until soft
Set aside
In a bowl mix 2 tablespoons of milk with the cornflour
Add the nutmeg to the milk and warm in a saucepan
When just less than boiling, pour into the milk and cornflour mix and return it all to the pan
Bring to the boil, stirring all the time. It will thicken
Spoon the lentil mix into the lasgane dish
Place the leek sheets on the top so it is all covered
Pour the white sauce on top
Cover with grated cheese
Bake in the oven at 180 degrees C for about 30 minutes until the cheese is bubbling