Busy Person's Soup
This recipe is by entrepreneur Arabella Greatorex. She is a busy lady but cares very much that her family eat good food.
Arabella has recently started using her slow cooker and is this is one of her favourite recipes. Here is Arabella in her own words:-
Slow Cooker Meals
I have only recently become enamoured with the joys of slow cookers and now I am hooked as it allows me not only to make slow cooker soup, but to make a low cost, healthy supper for the whole family early in the morning.
It is so much easier to prepare when the children are at school and my toddler is happy playing nearby, than trying to cook during the witching hour when we get home from school.
Home made Soup
At the weekend, we eat a lot of homemade soup and bread but during the week I find it hard to find the time (or the energy!) to make fresh soup so the slow cooker has been a real find. Just a bit of chopping up and the job is done!
Vegetable Soup
This is one recipe that I have made a few times – the quantities are not too important, so just use them as a rough guide. I tend to make do with whatever I have in the store cupboard, so feel free to add extra root veg if you have them around.
It's also a great way to make sure there are no lonely carrots, parsnips or potatoes that go unloved and unused! In the light of the recent story about how much food we waste, it's good to have standby ways for using up any leftovers from the weekly shop.
Cooking Tip
Spending the extra time to roast the squash/onion/garlic does give a whole new layer of flavour to the soup but it isn't essential if you are really pushed for time in the morning.
Arabella's Slow Cooker Vegetable Soup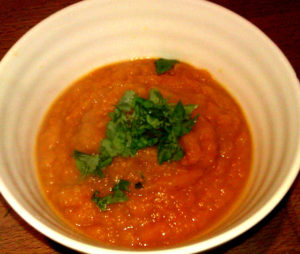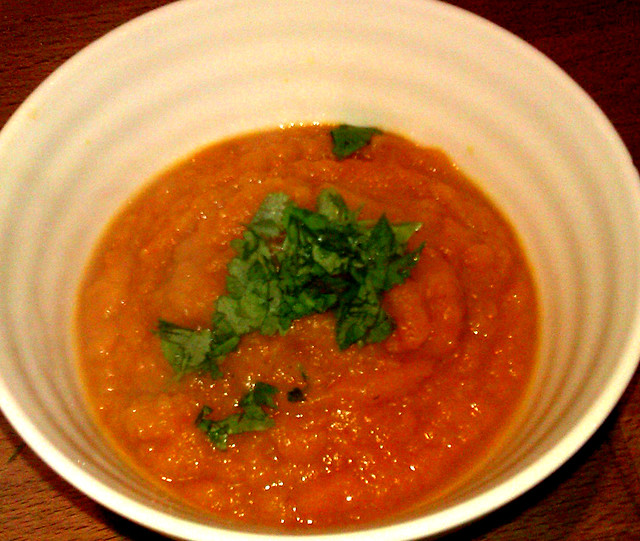 Ingredients
½

large butternut squash

1

large onion

1 large or 2 small

sweet potatoes

2 medium

carrots

2 / 3 cloves

of garlic

1 teaspoon

ground cumin

1 teaspoon

ground coriander

½ teaspoon

chilli powder

1

bay leaf (optional)

Small bunch

fresh coriander (optional)

a little

oil
Cooking Directions
Heat oven to 180 degrees c.
Wash the squash and cut into big chunks (I don't peel it but I do scoop the worst of the seeds out).
Cut the onion in half (again, I don't bother to peel).
Bash the garlic and take the worst of the paper off.
Place all in a roasting tin with a drop of oil over it and roast in hot oven for around 40mins.
While this is roasting, chop the carrots and sweet potatoes into chunks (I do peel the sweet potatoes but just scrub the carrots).
Put in the slow cooker along with the dried spices.
Boil the kettle.
When the squash/onion are nicely softened, take them out of the oven allow to cool slightly before peeling and chopping.
Add with the garlic to the slow cooker and pour over enough water to not quite cover the vegetables.
I cook on medium for the whole day (I tend to do this from 9.30 am to 6pm when we eat) but adjust to high if you need it cooked quicker.
This gives a really thick soup, you can add more water if you need.
Take out the bay leaf if you used one
Blitz (you can squash it up with a potato masher if you don't have a food processor)
Season with salt and pepper to taste.
Serve with the roughly chopped fresh coriander if you have any.