Pesto
When most people think of pesto, they think of green pesto. This is usually made from olive oil, basil leaves, parmesan, pine nuts and garlic and originates from Genoa, Italy.
However, since pesto means simply 'to pound or crush', there are many other pesto sauce recipes using different ingredients such as a red pepper pesto.
Pesto and pasta makes a delicious easy and low cost supper. Traditional green pesto is made from just basil, garlic, olive oil and pinenuts
Easy Pasta Recipe
There are few simpler suppers that are quite so delicious as 'pasta with pesto'. Fabulous served just as it is, there is also plenty of potential to add other vegetables such as broccoli or courgette. Green or black olives go perfectly in any pesto sauce.
You can, of course, buy pesto in a jar from a supermarket – but it really is much more fun to make your own – and you can try using different ingredients and flavourings.
Basil
Since the pesto sauce does require quite a few basil leaves, it is much easier – and cheaper – if you grow your own basil. Basil plants are available at supermarkets or garden centres and are very inexpensive and easy to care for. And you will love having fresh basil available for all your pasta and Italian dishes!
If you intend to make a lot of pesto sauce, two plants are better than one, as it is easy to rather decimate a basil plant as this pesto recipe does require quite a large number of leaves!
However, if you do not want to have a plant, basil leaves can be bought from most larger supermarkets and often your local greengrocer. The taste and smell of fresh basil leaves is just wonderful! In fact the smells that are released when making this pesto sauce is partly what makes it so enjoyable to prepare!
Making The Pesto
The quantities in this recipe are only rough. You can adjust the amounts to suit your own taste – and make any additions such as black pepper and olives.
It is easier to make this with a hand held food processor, but I made the one in the picture in a more traditional way and used a pestle and mortar! It needs a bit of muscle power and dedication but I loved the release of smells nad flavours and it produces a more textured pesto.
Serve your pesto stirred into your favourite pasta shapes. Add a few olives and serve with a side salad and may be some garlic bread.
NB Do remember that if you are cooking for a vegetarian, parmesan cheese usually contains rennet – so you will need to find vegetarian parmesan style cheese instead.
Serves 3-4
Pesto Recipe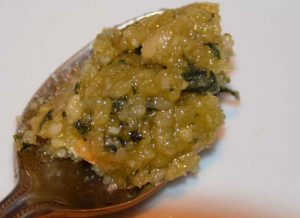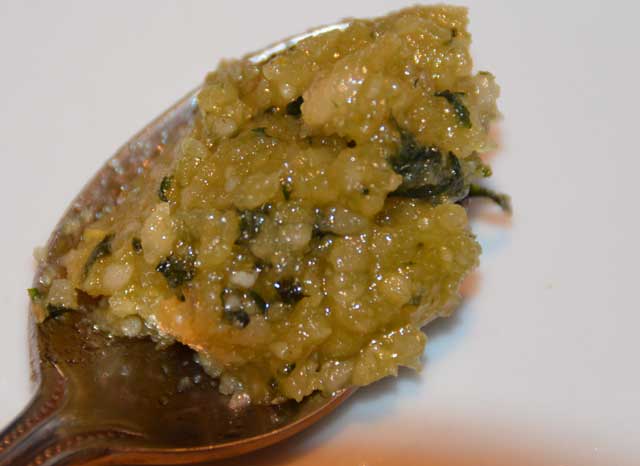 Ingredients
A large handful

of basil leaves

50g

pine nuts

50g grated

parmesan cheese, grated

2-3

tablespoons olive oil

2 garlic cloves




sliced or crushed
Cooking Directions
Put all the ingredients into small bowl
Whizz in short bursts with a food processor.
Stir into freshly cooked pasta
I do think it is better if you do not reduce it to a completely smooth paste, but leave plenty of texture.
Stir into freshly cooked pasta. Add other cooked vegetables, if desired.