Pea Soup
Pea soup is very comforting, sweet and delicious and the taste, for me, takes me back to childhood. Made with marrowfat dried peas the it reminds me of tea times and mushy peas and especially with fish and chips.
Being a Yorkshire lass originally, take away fish and chips were quite a regular meal during my childhood, always accompanied by mushy peas.
Pea Soup is one of those delicious basic soups that you may have forgotten about in a world of more exotic ingredients and flavours! Try it – you will like it!
Marrowfat Peas
How are marrowfat peas different from garden peas? This is a question I needed to look up, since I wasn't sure. It seems ordinary garden peas are picked when still young, small and sweet whereas marrowfat peas are left to mature on the plant. They are grown and harvested especially for drying.
You do need to soak the peas overnight in plenty of water before using them. Dissolve some with bicarbonate of soda into boiling water. Some dried peas come with bicarbonate of soda tablets to add to the water. If this is the case, just follow the instructions on the packet.
Low Cost Soup
This a very economical soup. With the peas costing just over 50p, the whole soup costs less than £1 to serve 4 people. You can buy dried peas in bulk even cheaper.
The recipe uses a knob of butter to fry the vegetables in and this makes a good addition to the flavour. Butter and peas do rather go together! If you don't have butter you can use margarine or sunflower oil. You can cook the peas with any green vegetables – it doesn't have to be leek. In fact it is a great recipe for using up some leftover veg that is looking a bit sorry for itself!
The soup only takes about 20 minutes to cook. You know the peas are throroughly cooked when little pieces of skin are floating on the top, like small jellyfish! Then just place in the liqudiser for a smooth soup.
A Pea Souper
Just as an aside, making pea soup made me think of the term a 'pea souper' to refer to the thick London smogs made of fog, pollution and soot. When you see the dense thick texture of the pe soup, you can understand the term! It was this smog in 1952 that led to legislation to help cut pollution. See the video below to see what it was really like.
Peas soup is certainly ideal for lunch on a foggy winters day
Pea Soup Recipe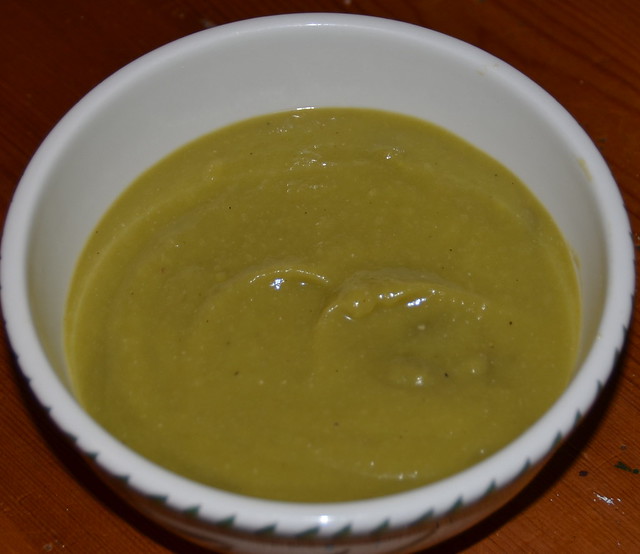 Ingredients
250g / 8oz

Dried marrowfat peas

Boiling water

for soaking

2 teaspoon

bicarbonate soda

1 teaspoon

butter

2 medium

leeks, sliced

1 medium

carrot, peeled and chopped

1 medium

potato, peeled and chopped

1 litre

vegetable stock
Cooking Directions
Place the marrowfat peas in a bowl
Measure 1.5 litres boiling water
Add 2 teaspoons bicarbonate of soda – or use tablets provided with pack
Pour over peas and leave to soak overnight – at least 12 hours
Rinse the peas thoroughly to prepare for use
In a large saucepan, heat the butter
Add the leek and saute for a few minutes
Add the carrot and potato and sweat for a few minutes
Add the peas and stock
Bring to the boil and simmer for about 20 minutes until the vegetables are soft
Season with salt and black pepper
Place in a liquidiser until smooth
Return to the saucepan to heat through
Serve with crusty bread