Chickpeas And Rice With Vegetables
This chickpea recipe is a tasty combination of some of the vegetables that just go really well with chickpeas and rice. I enjoy chickpeas cooked with just onion and rice perhaps with some sultanas and almonds. So this is the deluxe version of chickpeas with rice.
Chickpeas – Nutritious And Low Cost
Chickpeas like many pulses are low cost, nutritious nad easy to cook with as they can be included in all sorts of recipes with pasta, rice or in stews. They can be added to a meat recipe to help it to go a bit further as well as adding texture and flavour like for this Savoury Mince recipe
Seasonal Vegetables
If you don't have all these ingredients to hand when you make this, then just use what you have – or add some new variations of you own such as peas and mushrooms or other vegetables depending on the season.
Chickpea Leftovers For Lunch
This is a dish that can provide lovely leftovers for lunch – whether eaten cold of heated up. Makes a lovely change from a sandwich and much lower cost than buying lunch if you are out. Pop it in a plastic container and eat it cold wherever you are
Tinned Or Dried Chickpeas
I have used tinned chick peas in this recipe but I am also about getting another batch of dried chick peas ready to soak and then boil to divide into portions and freeze so I have some ready at any time.
About 125g of dried chickpeas gives a similar amount to 1 tin – or about 260g once they have been boiled. The 400g weight if a can includes the water that is in the can too. It usually says on the side of a can what the drained weight of the chick peas is, which may be helpful.
It is very easy to make. I have used basmati rice but you can use long grain rice with white or brown. The rice is cooked separately and then just added to the vegetables at the end
I have used cumin seeds and garam masala to flavour the food. You could add some chilli too. Chickpeas and rice go very well with cumin.
Chickpeas With Rice And Vegetables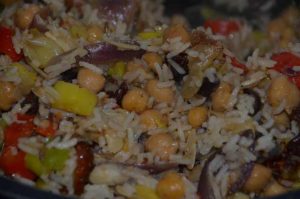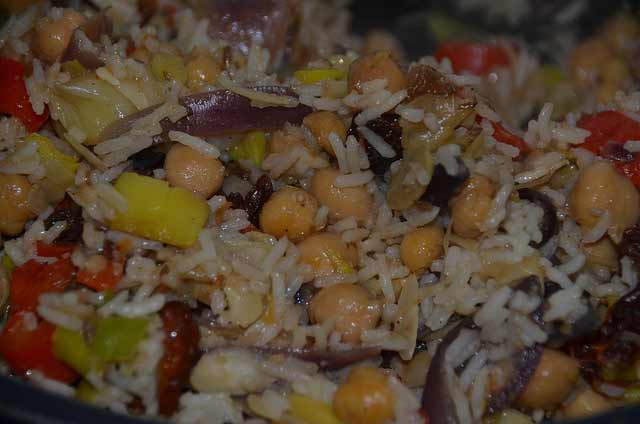 Ingredients
1 tablespoon

sunflower oil

2 medium

leeks, sliced

1 red

onion, peeled and chopped

A handful

sundried tomatoes, rehydrated in boiling water

1 red pepper

de-seeded and chopped

25g /1oz

sultanas

10g / 1/2oz

flaked almonds

2 teaspoon

cumin seeds

1 teaspoon

garam masla

2 cloves

garlic, peeled and crushed

200g / 7oz

basmati rice, washed
Cooking Directions
Place the sundried tomatoes in a small bowl and cover with boiling water
Wash the rice in cold water
Drain and cover with boiling water with about 2 cm over
Bring to the boil and simmer gently until all the water has been absorbed
Meanwhile
Heat the oil in a heavy based frying pan
Add the onion and cumin seeds and fry for 2-4 minutes
Add the peppers and leek and cook for 10 minutes
Drain the can of chick peas and add to the pan
Add the sultanas and almonds
Reheat and stir
Add the garam masala
Drain the sundried tomatoes and add to the pan
Once the rice is cooked, add the rice to the pan and stir
Add a small amount of boiling water if it seems too dry
Stir for 5 minutes and serve