Cheese Straws – Easy And Delicious!
I was thinking about doing some more baking and wondering what simple but delicious things I could cook when I noticed that someone had searched on the website for Cheese Straws.
Unfortunately they wouldn't have found a recipe – or at least that is until now, as I had not yet included this simplest of savoury snack. So I immediately went about rectifying my mistake – and the recipe below is the result.
Cheese Straws may be easy to cook and ideal for children but they are still a delicious lunch box food or tasty snack
Learning To Cook Cheese Straws
I remember that cheese straws were the first thing that I ever cooked in my Cookery class at school, having just started secondary school. I excitedly went to school clutching my ingredients in a Tupperware box and looking forward to being taught some cookery skills.
Lunch Box Snack
I have made cheese straws many times since for lunch boxes and with my children when they were younger. It is an ideal first cookery lesson with small children as there are few ingredients, they are quick to do and cook and can be eaten as soon as they are cool enough.
They even have some nutritional value containing cheese and have no sugar! Children can bake them and then take them to school in their lunch box (if they can last that long!)
But cheese straws are not just for children. They make a good snack anytime whether lunch, coming back from school/college/ work or morning coffee with friends. They are especially good if you are trying to reduce your sugar intake and yet still crave biscuits and snacks.
I made these cheese straws with a mature cheddar cheese so there is plenty of flavour. Try adding some Parmesan cheese in too.
You can add a pinch of chilli or cayenne pepper too or may be nut meg to give them that extra kick.
This recipe makes about 20 small straws.
Cheese Straws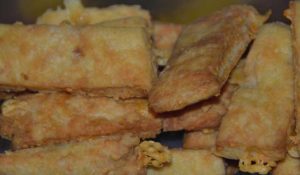 Prep time: 10 minutes
Cook time: 15 minutes
Total time: 25 minutes
Ingredients
75g / 2.5oz

butter

100g / 3.5oz

plain flour

50g / 1.5 oz

mature cheddar cheese, grated

1

egg yolk
Cooking Directions
Preheat the oven to 180 degrees c
Rub the flour and the butter together
Add the grated cheese
Stir in the egg yolk and form into a dough
Sprinkle some flour on the work surface
Roll out to about 1/4 inch thick
With a sharp knife, cut into strips
Then cut across to make the length of cheese straws you wsh
Grease a baking tray or line with baking parchment
Place the straws on the tray
Bake in the oven for 10-15 minutes or until golden brown
Allow to cool for a few minutes and then transfer to a baking tray
Enjoy!