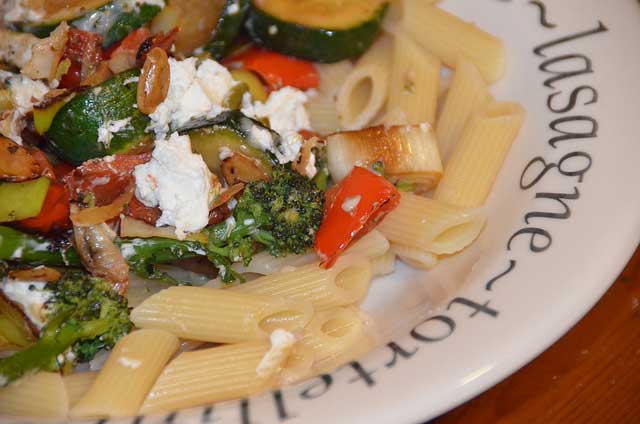 Vegetables With Pasta
What can you do with some leek, purple sprouting broccoli, a courgette and some pasta? Add some goat's cheese and you have a really tasty and quick and easy to cook midweek supper! Goat's cheese goes really well with all these vegetables.
I also added a handful of flaked almonds to add a bit of crunch and texture. Almonds are really good for you too..
A really tasty meal from some vegetables, some pasta and some goat's cheese. You don't need lots of fancy flavours to make an amazingly tasty meal!
A Few Vegetables – Some Pasta And Some Cheese
I like it when I have a few ingredients to put together to make a meal. Having many basics in the cupboard such as pasta, rice and lentils means that I always have a base on which to create a meal. I had seen a piece of goats cheese on offer in the supermarket and thought that it would be a good addition to the purple sprouting broccoli I had bought
Purple Sprouting Broccoli
Purple sprouting broccoli is in season from January through to April. It is often not available in the supermarkets and when it is, it tends to be very expensive. However if you go to your local farm shop or farmers market you will probably find it very reasonably priced. Read more about purple sprouting broccoli – and add to the comments as to how you cooked yours
Use Different Vegetables
I used a romero red pepper – the long ones that look a bit like a big chilli. They are often sweeter than bell peppers but you can use just an ordinary red bell pepper instead or even a green pepper!
You can make this recipe with perhaps only two of the four vegetables and you can always add something different such as mushrooms or peas.
You could use a different cheese too but the soft goats cheese is really delicious with this combination of vegetables. Best seasoned with plenty of black pepper too!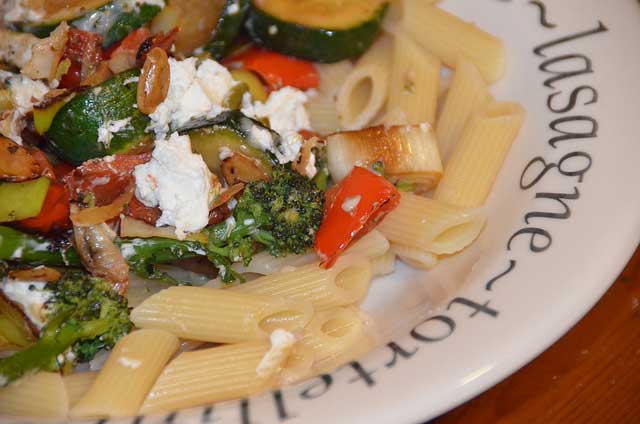 Pasta With Vegetables And Goats Cheese
Quick recipe with many vegetables
Ingredients
1

tablespoon

olive oil

2

medium

leeks

1

red romero

pepper

or red bell pepper

1

small

courgette

250

g

purple sprouting broccoli

2

cloves

garlic

peeled and chopped

Handful

sliced almonds

(optional)

100

g

soft goats cheese

350

g

pasta shapes
Instructions
Slice the leeks discarding the root end. Include some of the darker green end.

Heat the olive oil in a large frying pan

Add the chopped leeks stirring well

Deseed and chop the pepper and add to the pan an stir

Slice the courgette and add to the pan

Chop the purple sprouting broccoli into bite-sized pieces, discarding the thick stalks

Lightly steam for 5 minutes before adding to the other vegetables

Add the garlic, stir and continue cooking over a low heat

Meanwhile put the pasta in a large saucepan

Cover with boiling water and simmer for 12-15 minutes

When the pasta is almost ready, add the almonds to the vegetable mix and stir

Chop the cheese into chunks and lay on top of the vegetables and the gently stir so that the goats cheese warms and melts a little

Drain the pasta and serve with the vegetable mix on top.