Roasted Squash Soup For A Winter's Day
On a cold January day I am thinking about what new soup I can do. I have half a crown prince squash just waiting to be cooked (they do keep very well) and then it strikes me that squash and tomato soup sounds delightful! Especially if they are all roasted in the oven first to get lots of flavour! That's more flavour for the soup and less work for me!
Roasted Squash and Tomato Soup is a real winter warmer, easy to cook, delicious full flavour and beautiful warm colour too! Ideal for cold winter days
Tomatoes All Year round?
Tomatoes are not in season at the moment but I found some that are grown in Kent. The come from Thanet Earth where they use heated greenhouses to grow tomatoes all year round. They also grow peppers and cucumbers. They say they use minimum pesticides and use natural predators where possible. They also keep their carbon footprint as low as they possibly can and have even won a sustainability award.
I would always rather buy tomatoes grown locally in Devon – and in the summer time this is possible. It is difficult to know the carbon foot print comparison between buying a tomato flown in from Morocco or one grown under glass in Kent?
Riverford supply tomatoes all year round. They have attempted to address the question here. They look at whether hot housed tomatoes are 'greener' than naturally grown tomatoes that have to travel a long way. There are still many variables.
Another option is always tinned tomatoes – but do we know if they were tinned when they were in season? A lot of tinned tomatoes are Italian so have travelled either before or after canning.
There are certainly more questions than answers when you are trying to eat more sustainably (apologies to those who ar enow humming a song in their heads!) It would be good to have much more information about our food's origins – and yet then would that leave your head spinning deciding which is more ethical/ nutritious / low carbon / economic
Crown Prince – King Of Squashes
The crown prince squash is definitely for me the best squash. Roast in the oven with the tomatoes, this soup has loads of flavour. I just added a very little cayenne pepper, some paprika and some black pepper to give it a little spiciness to the sweet, roasted flavours.
It is so easy to make and only requires less than 10 minute so of your actual time – the rest happens in the oven and creates lots of lovely smells! What could be more warming on a winters day? And such a lovely coloured soup too!
Roasted Squash And Tomato Soup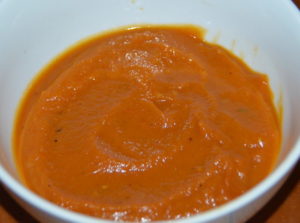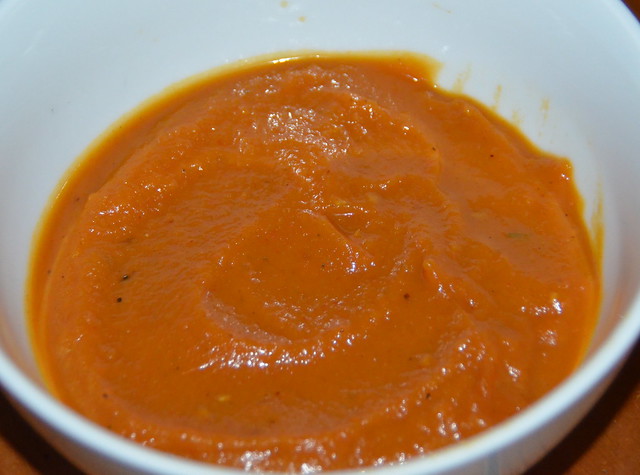 Prep time: 10 minutes
Cook time: 60 minutes
Total time: 70 minutes
Ingredients
2 tablespoons

olive oil

1/2 medium

crown prince squash

1 large

onion, peeled and quartered

450g / 1lb

tomatoes, quartered

2

carrots, peeled and quartered lengthways

2

garlic cloves, peeled

1 litre

vegetable stock

2 teaspoons

paprika

1/4 teaspoon

cayenne pepper

salt and black pepper

to taste
Cooking Directions
Preheat the oven to 180 degrees C
Remove the seeds from the crown prince squash
Cut into chunks
Brush each piece with olive oil and place on a baking tray
Place the tomatoes, carrots, onion and garlic on a baking tray
Drizzle with olive oil then stir gently to coat in the oil
Place both the trays in the oven for about 45 minutes
Scrape the soft squash flesh from the skin and place in a large saucepan
Add all the other vegetables into the saucepan
Add the stock, paprika and cayenne pepper
Stir and bring to the boil
Simmer for 5 minutes
Place in a liquidiser until smooth
Season to taste with salt and black pepper
Reheat and serve