Homemade Baked Beans
Baked beans on toast is the ultimate meal to prepare when you are short of time and / or cash. Homemade baked beans are even cheaper – and healthier! Eat them on their own or with a fried egg or grated cheese and some pickle. And many people love it and choose them as a real treat! What better for a warming, filling quick lunch.
They are also a way of getting children to eat something nourishing and filling as few children will refuse a meal containing baked beans.
Some people will only have one brand – the 57 variety one – and others will buy the value brands which are sometimes very low cost. A Guardian article suggested that Heinz has 70% of the baked bean market still – and yet they came quite low in a Which blind tasting test….
Why Baked Beans?
Why are baked beans called 'baked' when they are boiled? The answer to this seems to be that they were originally baked in a ceramic or cast iron bean pot. This would be put over a low burning fire and left to bake for hours, may be overnight.
What's In A Tin Of Baked Beans?
Tinned baked beans are made from haricot beans. All the different brands have varying amounts of sugar and salt. Although sugar is often cited as the problem, it's the salt levels that are the real issue. This analysis by ethical consumer is quite useful
Why Make Your Baked Beans at Home?
Of course by making your own baked beans you know exactly what goes into it and you can control the amount of sugar and salt according to your taste and dietary requirements.
Baked beans are very easy to make and the lovely taste is worth it. It may not work out more economical – whether it does really depends on the brand you were buying – but it does result in more tasty beans.
You can use tinned haricot beans or you can buy dried ones and soak them then boil them. I do this in large batches so I have bags of haricot beans in the freezer each of 225g (which is about 100g dried weight) and about the right amount for a serving for four people.
You can use cannillini beans as an alternative too.
This baked bean recipe is really simple and can be used as a topping for a baked potato, on toast or as an accompaniment to sausages or Shepherd's pie. You can adjust the seasoning as you wish and of course serve with brown sauce and / or bacon
Once you make your own you may not be keen to buy tinned beans again. There are many variations of baked bean recipes but I have gone for simple, easy and tasty!
Homemade Baked Beans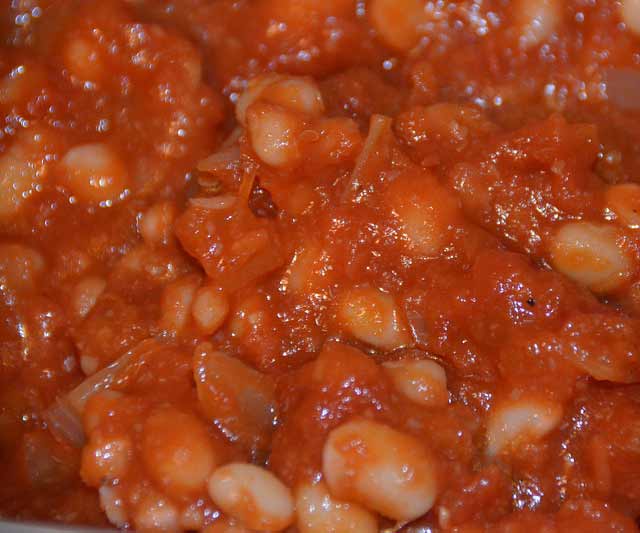 Ingredients
1 teaspoon

olive oil

1 onion

peeled and finely chopped

225g

haricot beans cooked

1 x 400g / 14oz

tin chopped tomatoes

1 tablespoon

tomato puree

1 tablespoon

malt vinegar

1 tablespoon

sugar

pinch

salt

2-3 tablespoons

water

generous sprinkling

black pepper
Cooking Directions
Heat the olive oil in a saucepan
Add the onions and fry until soft
Add the beans and stir
Add the tomatoes
Add the vinegar, sugar and tomato puree
Bring to the boil and simmer for 5 minutes
Add water as required to thin the sauce a little
Season to taste with salt and black pepper