Shortbread – Teatime Favourite
Shortbread is probably one of my favourite biscuits so I thought it is about time I included an easy shortbread recipe. It is one of the simplest biscuits having just 3, or 4 ingredients, depending on whether you use rice flour as well as plain wheat flour. I think it is best made with butter for the full buttery taste, but you can use margarine either and it will still taste good.
Shortbread is one of my favourite biscuits and this such an easy recipe, I wonder that I don't make shortbread biscuits more often! Perfect for Sunday tea!
Rice Flour
The rice flour just gives the shortbread a more robust, grainy texture. It is important not too use too much or it can become almost gritty. You should find rice flour in larger supermarkets and also in small health food shops since it is used as an alternative flour for people who have a wheat intolerance or allergy.
If you do not have rice flour, simply make up the shortfall with plain flour.
Keep Your Dough Cool
Like with pastry, it is important to keep the ingredients and dough for the shortbread cool and to avoid over-handling. If you have time it is a good idea to refrigerate the dough to rest before it goes in the oven. It just makes it a little flakier and crisper.
It will still be nice, however if you do not do this!
Shortbread – Any Shape
You can choose to have your shortbread any shape. You can form it into around and bake it in a cake tin, marking it into triangles from the centre for traditional petticoat tails or you can pre cut it into fingers and bale it as individual biscuits. Or use a shaped cutter to cut out any shape you would like. You can make our own patterns in the top.
You can roll out the dough to the desired thickness too, as you can choose whether to have thick, or thinner shortbread biscuits. You will need to adjust the baking time accordingly.
The biscuits will still be soft when you remove them from the oven so you do need a little patience, letting them have time to cool before they are ready to eat.
Store them in an air tight container and they will keep for a few days. Perfect with a cup of tea! A fabulous treat to slip in your lunch box.
Classic Shortbread Biscuit Recipe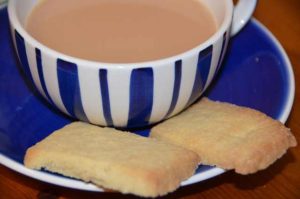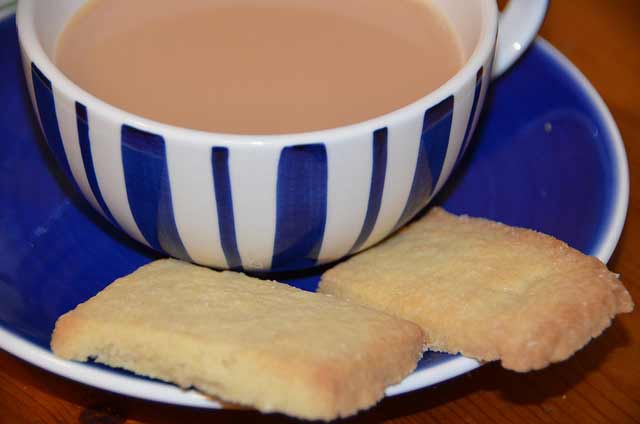 Prep time: 40 minutes – including chilling time
Cook time: 30 minutes
Total time: 70 minutes
Ingredients
115g / 4oz

butter, cut into pieces

55g / 2oz

caster sugar

130g / 4.5oz

plain flour

40g / 1.5oz

rice flour
Cooking Directions
For petticoat tails, grease and line a cake tin
For fingers grease and line a baking sheet
In a large bowl, cream together the butter and sugar
Sieve the flour and rice flour together and sprinkle on to the butter mixture
With cool hands, work the flour into the mixture until you have a smooth dough
Roll out the dough to the desired shape, round or oblong using your hands to get the final shape
The thickness can be 5mm-15mm
Place the dough in the fridge for about 30 minutes
Pre-heat the oven to 170 degrees C
Place in the oven
For fingers bake for about 30 minutes, for a round in the cake tin about 60 minutes. Remove from oven just before it starts to brown
Allow to cool then turn out onto a wire rack