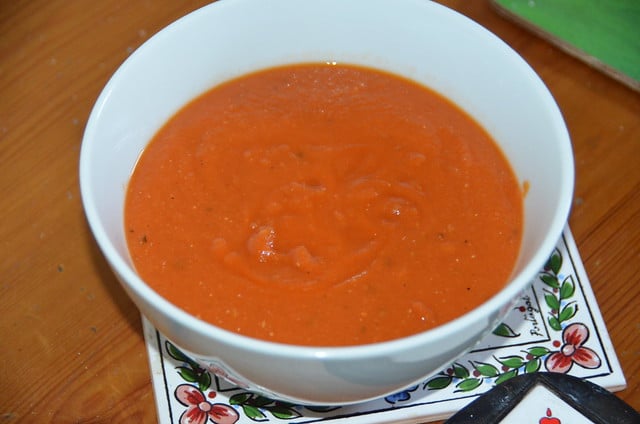 Warm Red Lentil Soup!
I don't know whether it is the rich flavours or the amazing colour that makes red lentil and tomato soup so delightful on a cold winters day. I guess it is both. It warms the sense as well as the body! And both red lentils and tomatoes are full of good vitamins too. You can feel it doing you good with every mouthful! This is a very low cost recipe too.
Red warm soup made from nutritious red lentils and tomatoes rich in colour and flavour, yet easy to make and low cost too.
Soup Inspiration From Facebook
I cooked this soup after putting out a question on Facebook to find out what are peoples favourite winter warming foods. One of the replies was red lentil and tomato soup and it sounded so yummy I just felt compelled to make some – and am so glad I did!
I also loved another comment which said fresh bread and honey was the best, because it reminds one of summer. Especially as we are in the middle of January as I write and summer seem such a long way off!!
If you would like to share your recipes or join in the conversation about easy and low cost recipes, do like Penny's Recipes Facebook page
Easy Soup From Staples – Red Lentils And Chopped Tomatoes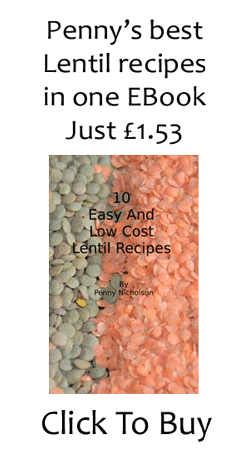 It is one of those simple soups that you can often make from your store cupboard as it has few ingredients and all of them are staples of your weekly shops – that is if you are a frugal cook who loves lentils as a brilliant way of making low cost meals.
For the tomatoes, I used a 400g can of chopped tomatoes but also added some tomato puree. I used cumin seeds to season the soup, along with some garam masala but also added 2 tablespoons of lemon juice at the end which just improved the taste. This soup is good with lots of black pepper. The lemon juice can be omitted but I would recommend it
Red lentils cook quickly and easily and require no soaking. They tend to take on a mushy texture when cooked. You could have this soup straight from the pan without first liquidising it as it will already be quite liquid or put it in the liquidiser for a smooth soup.
The cost of this soup is less than £1 for four people. Home made soups are so very nutritious and economical.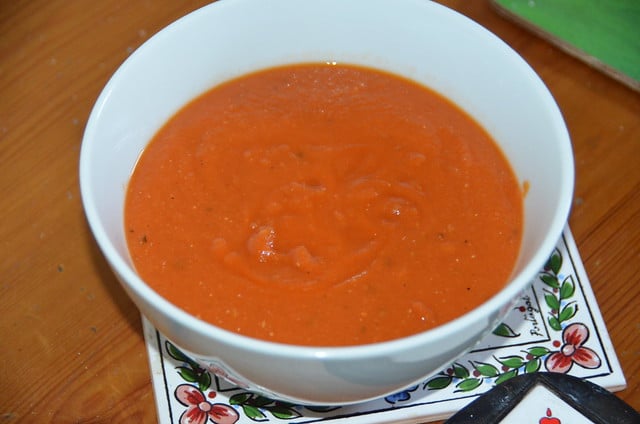 Red Lentil & Tomato Soup Recipe
Ingredients
1

tablespoon

sunflower oil

1

medium onion

peeled and sliced

200

g

red lentils

1

x 400g

can chopped tomatoes

2

tablespoons

tomato puree

1

tablespoon

cumin seeds

1

teaspoon

garam masala

2

tablespoons

lemon juice

salt and black pepper

1

litre

vegetable stock

1

teaspoon

mixed herbs
Instructions
In a large saucepan, heat the sunflower oil

Add the onion and cumin seeds and saute until the onion is soft, stirring frequently

Add the lentils and the stock

Add the garam masala and mixed herbs

Stir well and bring back to the boil

Simmer for 20 minutes until the lentils are soft

Add the chopped tomatoes and tomato puree

Stir and bring back to the boil

Add the lemon juice

Season with salt and black pepper

Liquidise and return to the pan

Adjust seasoning reheat and serve