Lentil And Egg Curry
There are many, many different versions of egg curry originating from different parts of India. I like this egg and lentil curry as it is so attractive and delicious – it must be the different colours and textures as well as the fact that the egg takes on the flavour of the spices well. It doesn't have any really authentic origin – more a combination of ideas I put together from searching around recipes books and the web.
Egg curry is easy to make, economical and very, tasty. Ideal for a midweek supper
Using eggs and lentils in a curry makes is very economical and it is a quick and easy recipe to make. It will cost around £4 with rice for four people, assuming you have the spices in your cupboard and some curry paste. Do use curry powder in place of the paste if it is what you have.
This is a great meal to cook when you do not have very much in your cupboards, since it uses the staples of eggs and lentils and you can adapt and experiment with the spices. I served it with basmati rice, but use the type of rice that you enjoy. You could, of course also serve it with nan bread.
A Vegetarian Recipe
This meal is ideal for vegetarians but is also great for meat eaters as the eggs and lentils supply the protein, meat will be hardly missed. Some egg curry recipes are eggs in a thick sauce but I like the addition of the lentils to give more variety of texture. I use lentils a lot in Penny's Recipes, because they are low cost, versatile and can be used as a meat substitute in many mince recipes.
Choose Your Vegetables
I used broccoli and peas for the vegetables in the recipe, but you can use the vegetables that are in season, and near to hand. You can, of course, also vary the spices mixture in the curry and adjust the quantity of chilli to your own taste. Although I like to use my own spices, I do usually have a jar of curry paste in the cupboard so I can use a couple of spoonfuls to get a fuller flavour in the curry.
The meal takes about 25 minutes to cook, so remember to put your rice on to boil or steam, as soon as you have got the lentils for the curry cooking. You can speed things up by boiling the lentils separately for 10 minutes before adding to the onions.
I make this recipe with 6 eggs for four people – an egg and a half each. You could reduce this slightly to just one egg each depending on your appetites and how hungry you are – and how many eggs you happen to have! Use organic eggs for the best flavour, ideally from a local source.
I am also proud that the garlic cloves I used came from my garden!
Egg And Lentil Curry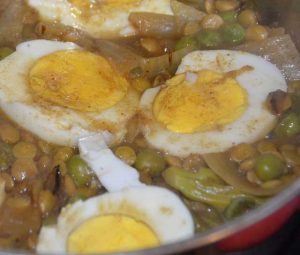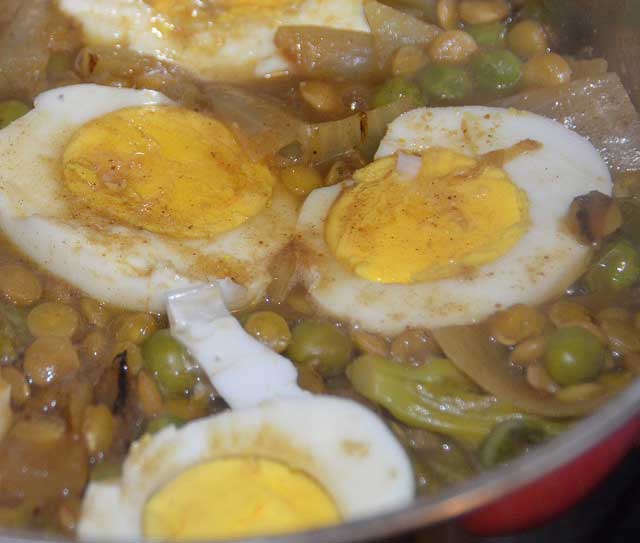 Serves 4
Ingredients
6

Eggs

2 tablespoons

olive oil

1

onion, peeled and sliced

2

garlic cloves, peeled and sliced

200g

green lentils

1

litre stock

handful

broccoli florets

110g / 4oz

frozen peas

2 teaspoons

garam masala

2 teaspoons

chilli powder

2 dessertspoonfuls

curry paste
Cooking Directions
Boil the eggs for 8 minutes
Meanwhile in a large saucepan, heat the olive oil
Add the onion and garlic and cook until onion is soft
Add the lentils, stir and cool for one minute
Add the spices
Add the stock and bring to the boil
Simmer for 10 minutes
Add the curry paste
Add the broccoli and peas
Cut the eggs into halves
When the lentils are soft add the eggs and cook for a further 5 minutes
Serve immediately