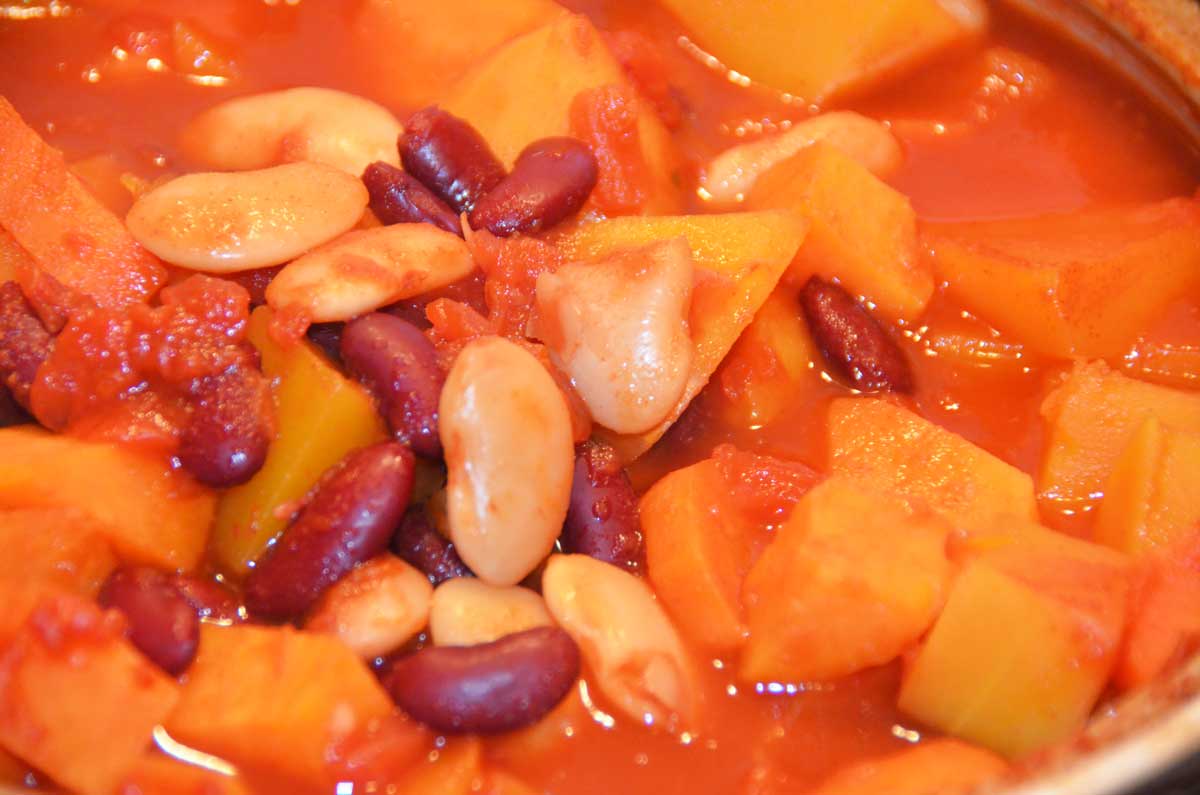 Warming Vegetarian Bean Stew
This Bean Stew recipe can be done in the oven or in a slow cooker. I have a slow cooker which I do not use very often but whenever I do, I always say I should make more use of it! It is very good for organised people. Using a slow cooker enables you to get the dinner ready first thing in the morning. However, if you do not have a slow cooker, you can prepare the dish in the same way and place it is a large casserole dish.
A warming, winter casserole that can be cooked in slow cooker, or conventional oven. Nutritious, low cost and delicious!
Winter Vegetables
Winter root vegetables are ideal for a warming vegetarian stew. Full of colour and vitamins, you can feel them doing you good as you eat them! You can use any mix of vegetables in this dish that are available to you. Choose what is cheapest. Try different squashes – butternut, crown prince or onion squash or even some of the smaller acorn squash.
Low Cost Beans And Vegetables
This dish costs less than £5 for four to six people. Most supermarkets sells kidney beans in their budget range so you can get a tin for between 30p and 40p. Most other tins of beans are around 70p. Of course it is more economical to buy them dried and soak and cook a big batch and then freeze them in portions – but it is good that tins are convenient and low cost too!
Ready When You Are!
A great recipe for when people need to eat at different times. It takes a bit of effort in the morning but it is a great feeling when the evening comes and you know that all you have to do is ladle your dinner out on to a plate and enjoy.
This is a very easy recipe – it just requires a bit of chopping of vegetables. You can vary the type of beans you use and the type of vegetables. Just use this recipe as a basis to include your own personal favourites. I serve this with baked potatoes, partly because they are so easy to cook but it would be good with mashed potatoes, rice or even a good hunk of bread.
It takes about 7-10 hours in the slow cooker, so make sure you start it early enough in the day. It really only takes a few minute to prepare and is very economical too.
It takes 2 hours in an oven at about 180 degrees C. If you are serving it with baked potatoes, these can go along side the casserole, so all your meal is cooked together, saving energy too.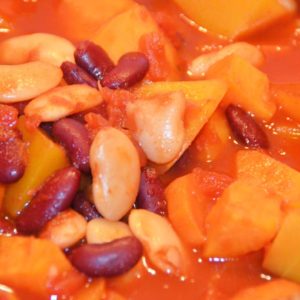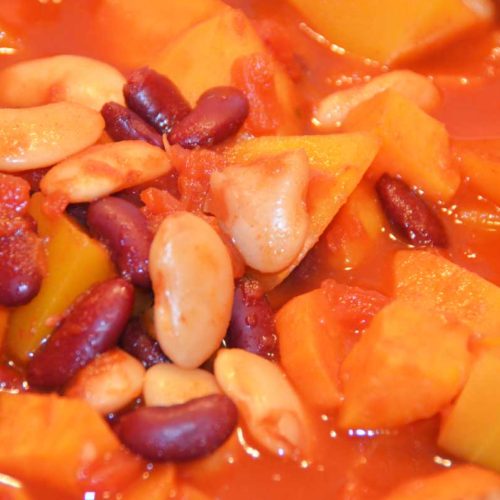 Vegetable And Bean Stew Recipe
Easy, warming vegetarian casserole for when you need something nutritious and filling
Equipment
Large casserole or slow cooker
Ingredients
1

onion

peeled and chopped

2

garlic cloves

peeled and sliced

1

400g

can kidney beans

drained and washed

1

400g

tin butter beans

or chick peas, drained and washed

1

litre

vegetable stock

1

400g

tin chopped tomatoes

1

tablespoon

tomato purée

2

teaspoons

mixed dried herbs

1

sweet potato

peeled and chopped

1

small

squash or swede

peeled and chopped

2

medium

carrots

peeled and chopped

1

medium

courgette

sliced

2

teaspoons

paprika

pinches

to taste salt and pepper
Instructions
Slow Cooker
Put all the ingredients in a slow cooker and stir well

Cook in a slow cooker on high for 2 hours then on low for 5-6 hours
In the Oven
Put all the ingredients in a casserole and stir

Cook in the oven at 180 degrees C for 2-3 hours.