Fish Recipes
The more observant among my more regular readers, may have noticed the absence of fish and seafood recipes on Penny's Recipes. I am afraid I have a confession to make – I don't like fish. I wish I did, I really do. Not only do I know how much people love fish recipes and I wish I could share the pleasure, but they are health giving, low calorie, low fat and easy to cook! Good fish recipes are perfect for this website.
This lovely fish curry recipe can be made with the sustainable and economical fish, Coley, also know as Saithe
Fish Curry – Meal With Friends
I am happy however to present this fabulous guest recipe from a very good friend of mine, Diane, with whom I have been friends in excess of 25 years. I know this is a good recipe because it is one she cooks for special friends as a real treat. I know this even though she would never have dreamt of cooking it for me, knowing me as well she does…
Or so I thought….
One weekend about 12 years or so ago I was looking forward to visiting my friend on a dark and icy evening. She lives in a small, pretty Cotswolds village. I was staying for dinner and overnight as it was likely we would be talking about our lives, the universe and everything deep into the early hours. I knew I would be in for a lovely evening because of the great company, the lovely wine and the delicious food which I knew Diane would be preparing.
On arriving there were some interesting aromas coming from the kitchen and Diane told me she had a real treat in store for me – fish curry. As the words tumbled out of her mouth, no doubt my expression changed, and the light went on in her head as to her horror, she realised her mistake – oh no! You don't like fish do you….. How could my good friend have forgotten!
Fish Dinners
I am sure I mumbled something about it being OK and that I would just eat some rice and was there the odd side dish – trying not to be upset that she had forgotten. I had long since stopped reminding her, as I usually do when visiting new friends for food. And I am upfront about it – ever since I suffered one excruciating 'treat' birthday dinner, lovingly cooked by my future mother-in-law – Salmon Mousse. I didn't have the heart to tell her I couldn't eat it and surreptitiously passed it all over onto my boyfriends' plate, bit by bit. If she saw, she never said!
Anyway Diane's husband heroically offered to go out to the nearest town and get a takeaway for me. Despite my protestations, he insisted, and a chicken korai was duly bought. Well we settled down to a lovely convivial meal together – and all was well. However I think Diane has an 'ouch' moment whenever she remembers that evening. Needless to say our strong friendship remains and grows.
So Diane presents this recipe subtitled 'made for, but not eaten by Penny'. However I do know it will be delicious for fish lovers.
Coley – A Sustainable Fish
I am of course aware of the sustainability issues around fish and I think it is important to check that any fish you are buying is from sustainable sources.
This recipe can be cooked with Coley, which is one of our more sustainable fish right now.
Diane is a talented artist and illustrator. You can see examples of her work on her website Manic Illustrations
Fish Curry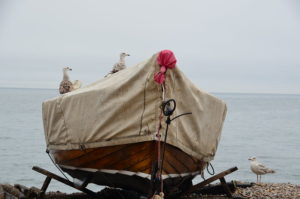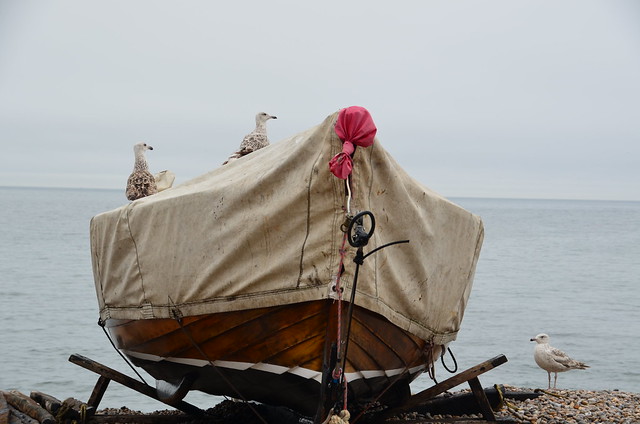 Ingredients
500g / 1lb

white fish fillets, especially coley

pinch

salt

1/2 teaspoon

turmeric

1 teaspon

chilli powder

4 tablespoons

vegetable oil

1/2 teaspoon

mustard seeds

1/4 teaspoon

fenugreek seeds (optional)

1

onion, peeled and finely chopped

1/2 inch

piece root ginger, minced or grated

2-3 cloves

garlic, crushed

1/2 -1

chilli, chopped finely

200g / 7oz

can chopped tomatoes

1/2 teaspoon

cumin powder

1/2 teaspoon

garam masalla

1/4 teaspoon

black peppercorns

1 tablespoon

desiccated coconut (or use creamed coconut in a little hot water)
Cooking Directions
Cut fish into 1-2 inch pieces.
Mix a little salt with the turmeric and chilli and sprinkle a little onto the fish.
Heat a little of the oil in a frying pan and quickly fry the fish and then set aside. (Dont worry about it being underdone it will simmer later in sauce)
Add the remaining oil to the pan, put in mustard seeds and fenugreek if using.
Fry for a minute, then add onions and fry gently until golden brown.
Add minced garlic, ginger, and chillies if using, stir fry a few seconds.
Add chopped tomatoes and coriander, cumin, and garam massala.
Cook for 1 minute.
Add coconut and stir.
Place fish pieces into pan carefully and stir in gently.
Simmer 5 -10 minutes – do not allow fish to over cook and go mushy.