Tomato Soup Recipes
Tomatoes are full of goodness. And soup is one of the best ways to enjoy them. We know they are full of anti oxidants – and that cooked tomatoes are better than raw ones (although you can't beat a ripe tomato, still warm from the summer sun, plucked straight off the vine, for taste!)
This colourful warming soup really cheers up any day and has plenty of nutrition to do you good too! Easy and low cost to make
Nutritious Carrots
I think the warm orange and red colours of this soup, reminiscent of a beautiful sunset, also makes it a visual delight. The carrots are full of good things you need. (Did you know they apparently really do help your eyesight!)
I buy carrots from my local organic vegetable supplier, whenevre I can as they are very tasty as well as being low cost and come with a low carbon footprint and no pesticides!
Warming Soup
Soups are such a delight too. On a cold winter's day having some warm food or liquid inside you, really does warm you through. And they are a light meal on a warm day. Soups are easy to make because all they need is a bit of chopping of vegetables a bit of initial frying and then once the stock is in it can be left to simmer away until all the ingredients are cooked. Click here for lots of soup ideas.
Then blitz it in a liquidiser or push through a sieve – or even leave it as it is if you like your soups more lumpy in which case you can have with veggies intact. Or just puree half of the soup and leave some vegetables whole.
I try to make soups for a few days in a row so that I have a few in the fridge ready to heat up. They are so much less cost than the 'fresh' soup you buy and you don't have to worry about sugar and salt content as it is up to you how much you put in.
Home made soup is very economical – this soup costs less than £1 and serves four generously.
Carrot And Tomato Soup
In the absence of fresh tomatoes, this soup uses chopped tinned or packet tomatoes and a really good dollop of tomato purée. Recently I have been buying a jar of tomato purée that keeps in the fridge. I find it really useful and handy to extract exactly the right amount I need for the task in hand.
There is a spoonful of sugar in this soup as it just reduces the sharpness of the tomatoes, but you can omit it if you prefer – it is just a matter of taste.
This soup is best seasoned with lots of black pepper. For an extra flourish a swirl of yoghurt or cream on the top is good!
Carrot And Tomato Soup Recipe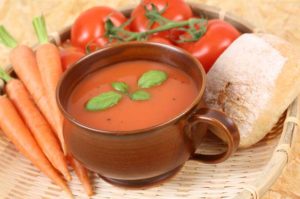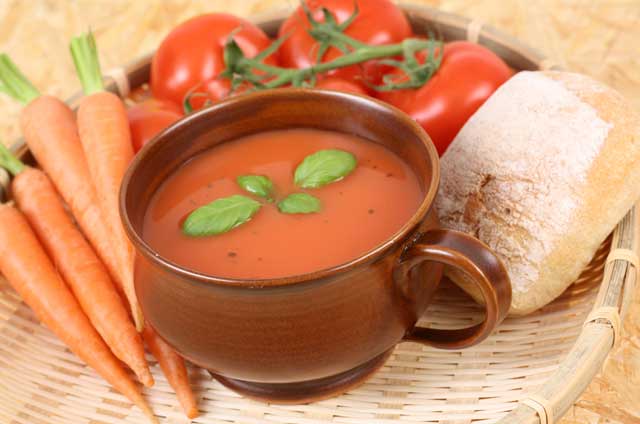 Ingredients
1 tablespoon

sunflower oil

1 onion

peeled and chopped

4-5 medium

carrots, peeled and chopped

400g / 14oz

can chopped tomatoes

2 tablespoons

tomato puree

1 litre

vegetable stock

1 teaspoon

dried basil or handful fresh basil leaves

Black Pepper

to taste

1 dessertspoonful

sugar
Cooking Directions
Heat the oil in a large saucepan
Add the onion and cook until soft
Add the carrots and cook for a few minutes
Add the stock and tomatoes and stir
Add the tomato puree and basil
Stir, bring back to the boil, and turn to a simmer
Cook for about 20-30 minutes or until the carrots are very soft
Process in a liquidizer or push through a sieve
Return to the pan
Add the sugar
Re-heat and serve