Best Vegetables For Thai Curry
The freshest vegetables come from local Farmer's Markets and greengrocers. This curry uses fresh vegetables so makes the most of them in season
This economical and easy green thai curry recipe is really easy to make. Gently cooked in the slow cooker the flavours develop, ensuring a delicious supper
Not everyone has such a good supplier on their doorstep but I could encourage you to seek out the best vegetables you can, whether at a farm shop, Farmer Market or local green grocers.
Local vegetables grown with love and care often taste much, better than their supermarket counterparts. It makes the whole experience of cooking the vegetables, so much more rewarding and it's exciting trying new ways with the vegetables that will make the most of their wonderful flavour and texture.
Green Curry
Green curry is so named simply because of the colour and the fact that the dish uses green chillies (as opposed to red curry which uses red chillies). This dish uses a curry paste and is therefore really easy to make. You just chop up the vegetables and use the paste and some coconut milk
I think there are times when using a bought sauce or paste can be the best option, although there are recipes on the internet to make the paste up too if you wish to have a go.
Green Thai Veg Curry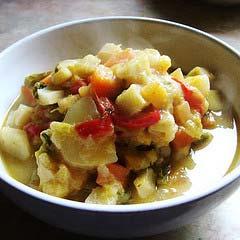 Ingredients
2 leeks

sliced

1 onion

peeled and sliced

1 jar

Thai Green curry paste

1 tin

coconut milk

2 carrots

peeled and sliced

1 parsnip

peeled and sliced

1 turnip

peeled and sliced

1/2 swede

peeled and chopped

handful

spinach, chopped

1 small

harlequin squash, peeled and chopped

150g

purple sprouting broccoli, roughly chopped

1 red pepper

deseeded and chopped

1 medium

potato
Cooking Directions
Lightly fry some leeks, and onions in a little butter/olive oil
Add the jar of organic Thai Green curry paste
Place the mix into a slow cooker.
Add the tin of coconut milk.
Add the carrots, parsnip, turnip, swede, spinach, harlequin squash , purple sprouting broccoli, one red pepper, spinach and a medium potato.
Cook in the slow cooker until vegetable are to your taste.
Top with some fresh coriander if you wish.
Serve with rice and /or nan bread