Comforting Mince Stew
Farmhouse mince, made with beef mince or lamb mince is real warming comfort food, full of nutrition. This dish can be served with pasta, potatoes, rice or bread.
Beef Mince is a comforting and warming meal, perfect for a cold winters day. The lentils and vegetables add lots of flavour and make this dish healthy and low cost
This mince recipe includes plenty of vegetables and you can use your favourite. Use mixed frozen vegetables for convenience or select your favourite fresh vegetables such as carrots and swede and add some frozen peas. Use one vegetable or lots – it is up to you.
The advice for best health is to eat a variety of vegetables, so the more the better. Visit your local green grocers, Farmers Market or local farm shop to find seasonal fresh vegetables often at really good prices, cheaper than the supermarket.
Lentils
The recipe also includes lentils. Lentils are a pulse that is high in protein and very low cost. You can buy them at any major supermarket, health food shops and often local independent stores. Lentils (and other beans and pulses) are a healthy and low cost way of making meat go further and keeping the cost down. They also add texture and flavour.
Cooking For One or Two
The quantities in this recipe serve two generously so share with a friend or save half. Put half in an air tight container. Allow to cool and then place in the fridge for 3 to 4 days or put in the freezer where it will keep for a month. Defrost for 24 hours in the fridge before reheating
To reheat place in a pan and heat up gently in a pan, ensuring it is hot all the way through. Alternatively you could put it in a small casserole and put it in an oven heated to 180 degrees C for about 20 minutes.
If you only want to make enough for one then halve the quantities.
Serve With Pasta, Rice or Potatoes
To serve with pasta you will need 75g to 100g per person. Place it in a saucepan and cover with plenty of boiling water. Stir, and turn the hob down to just a simmer for about 15 minutes. Drain off the water and serve. Put the pasta on to boil just before you add the vegetables to the mince.
To serve with mash you will need about 250g of potatoes per person. Peel the potatoes and chop each one into about 4 pieces. Cover with boiling water and simmer for about 15 minutes, until the potatoes or soft. Drain off the water then add a splash of milk and a knob of butter to the potatoes. With a masher, keep pressing down on the potatoes until they are thoroughly mashed. Put the pasta on to boil just before you add the vegetables to the mince.
If you would like to serve the dish with rice see How To Cook Rice
If you have any questions about cooking, please put a question or comment in the comments box below
Serves 2
Farmhouse Mince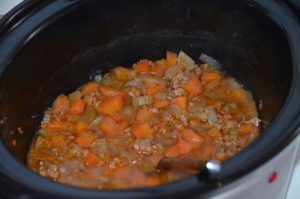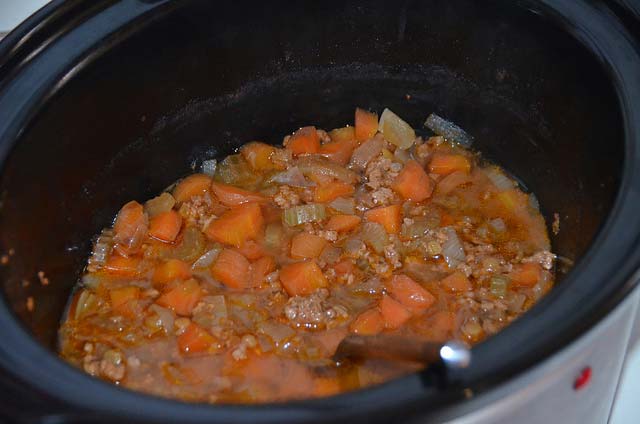 Ingredients
200g / 7oz

lean minced beef or lamb

1 medium

onion, peeled and sliced

50g / 1.5 oz

dried red lentils

1 tablespoon

tomato puree

1 teaspoon

paprika

1/2 teaspoon

cayenne pepper

1 tablespoon

worcester sauce

468ml / 1 pint

beef or vegetable stock

450g

mixed fresh or frozen vegetables (one or more of peas, sliced leeks, chopped swede, sliced parsnips, sliced carrots, sweetcorn)
Cooking Directions
On the Hob
Place the mince in a large frying pan
Turn the heat up quite high and brown the mince, stirring frequently (the mince will release enough fat when heated to fry it)
Add the tomato puree, paprika, cayenne, worcester sauce and stock
Add the lentils
Stir well and bring to the boil
Cover and simmer for about 40 minutes
Add the vegetables and continue cooking until they are soft (root vegetables like carrot parsnip and swede will take about 15 minutes whilst peas, sweetcorn and leeks will take 6-9 minutes)
Serve hot with pasta, rice, mashed or baked potato or bread