Jambalaya Rice Recipes
Sharing tried and tested recipes from other people is part of what this website is all about so I was delighted to receive this Jambalaya recipe from Julia. (Well she calls it her Sort of Jambalaya. Many people have their family favourite recipes that have been honed over the years to perfection.
There are hundreds of thousands of delightful recipes out there that are lovingly cooked again and again to the delight of family and friends. It is a joy to share these recipes so others can benefit form this collective skill and experience.
Jambalaya recipe made with chicken and spicy sausage and your choice of vegetables. A favourite family recipe for more than 15 years
When the children have grown up and left home, these are the meals they request when they return for the weekend. It gives them the warm cuddly feeling of home and nostalgia. They may even want their partner to the food, literally giving them a taste of their past.
Sort Of Jambalaya
This recipe is from Julia, who describes herself as a Mother to three meat loving, fussy eating boys in East Devon
Jambalaya originates from the Caribbean and is a dish made from meat, vegetables and rice. It is cooked in a similar way to paella – showing its Spanish influences.
This is a one pot recipe – something I always appreciate. After a short preparation time, this can be left to cook itself. The recipe can even be adapted it to what you have in your cupboards and fridge.
Favourite Rice Recipe
Julia says:-
Here is my recipe for Sort of Jambalaya. I've been making it for about 15 years and it works really well and is good for using up veg or meat left in the fridge but also using a good amount of store cupboard ingredients.
It's really good for those meat-lovers (all my family except me!). The main meat ingredients can be swapped for others like lamb, beef or pork. Vegetables can be swapped for anything like other peppers, carrots, courgettes, celery, anything "Mediterranean" ie not too stodgy. You can omit the meat, but the spicy sausage does add a nice tang. Dwarf beans can be expensive, so I often use courgettes and carrots instead.
Jambalaya Recipe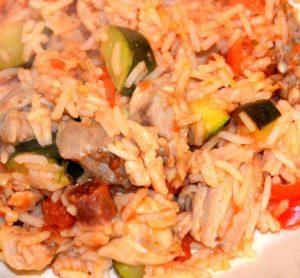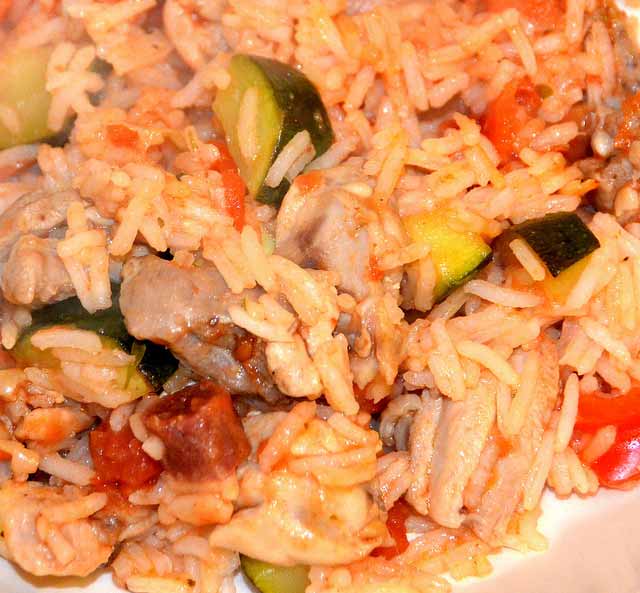 Prep time: 10 minutes
Cook time: 45 minutes
Total time: 55 minutes
Ingredients
3-4

chicken breasts

2

Pepperami Salami sausages or other spiced sausage

2 cloves

garlic, peeled and crushed

1

large onion

1

red pepper

1

green pepper

1 packet dwarf beans

or

1 large carrot and 1 large courgette

400g /14oz

tin of chopped tomatoes (or unchopped and chop them yourself)

1/4 teaspoon

cayenne pepper (or more if you like it hot)

2 teaspoons

dried thyme

1

beef stock cube

1 tablespoon

sunflower oil

170g / 6oz

long grain or basmati rice
Cooking Directions
Prep time: about 10 mins
Cooking time 45 mins but most of that you can leave it to cook.
Chop the chicken breasts
Heat the oil in a large pan
Add the chopped chicken and fry for about 5 mins on high
Peel and slice the onion
De-seed and chop the pepper
Chop the beans (or courgette) and peel and slice the carrot (if using)
Add the vegetables to the pot.
Next add the tin of tomatoes, garlic, cayenne, thyme, stock cube, pepperami/spicy sausage and cook for a few mins.
Put in the rice and stir in enough boiling water to cover all the ingredients.
Bring to the boil, then turn heat down on simmer for about 10 mins with a lid on stirring occasionally to make sure the rice doesn't stick to the bottom of the pan.
Turn the heat off, cover and leave on hob for about 20-30 mins or until the rice is cooked.
Top up with boiling water as required.
Stir once or twice before serving.
The consistency should be similar to risotto, but not too wet.