Leftovers Soup With Carrots And Sweet Potatoes
This is a fabulous recipe for using up any leftover carrots and sweet potatoes. The soup came about because the last time I had to buy a bag of sweet potatoes as the supermarket had sold out of loose ones. I also had a couple of carrots that had seen better days.
Warming and nutritious soup that tastes really good. Flavoured with cumin and coriander with a small chilli kick. Great with crusty bread
I really quite enjoy thinking up ways to use up vegetables, whether for a dinner or lunch. Soup is often a tasty solution and you can be as creative and experimental as you like.
Just use a recipe as an idea, a starting point, and add your own ideas and flavours. There are no rules when it comes to making soup.
Soup Of Lovely Warm Colours
The colours of carrot and sweet potato were bound to make an attractive look and with a swirl of cumin, coriander, tomato and a small hint of chilli, another delightful soup was born. It is sweet but the chilli certainly lends a little kick to the soup. Of course you could leave out the chilli if you prefer.
Sweet Potatoes
Sweet potatoes are not native to the UK but they are always available. Most sweet potatoes sold here come from the USA, Central America or even China. Sweet potatoes are highly nutritious with lots of Vitamin A and beta carotene – and so are carrots. They are also really easy to peel and cook.
I don't use them very often because I do try to use local vegetables as much as possible, but sometimes a sweet potato just makes a lovely change and it goes so well with winter vegetables such as squash, carrots, parsnip and swede all of which I get from a very local supplier.
Soup For Lunch
This soup would be ideal to put in a thermos flask to take to work or school. It is so warming and full of nutrition it would really set you up for the afternoon!
It would also serve well if you have friends coming round for an informal lunch. Delightful with a good crusty loaf of bread and may be a little cheese.
The total cost for this soup is well under £1 for four servings too!
Sweet Potato And Carrot Soup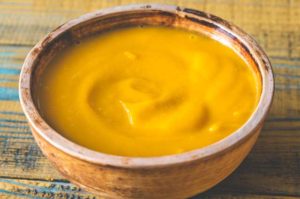 Prep time: 5 minutes
Cook time: 25 minutes
Total time: 30 minutes
Ingredients
1 tablespoon

groundnut oil

1 onion

peeled and sliced

2 medium

sweet potatoes, peeled and chopped

2 large

carrot, peeled and chopped

1 tablespoon

tomato puree

2 teaspoon

cumin seeds

1 teaspoon

coriander powder

1 teaspoon

tumeric

1/2 teaspoon

chilli powder

1 litre

vegetable stock

salt and black pepper

to taste
Cooking Directions
Heat the oil in a large saucepan
Add the onion and cumin seeds and cook for about 7 minutes, stirring occasionally until onion is soft
Add the carrots and sweet potato and sweat for a few minutes
Add the coriander, turmeric and chilli powder and stir
Add the stock and tomato puree
Bring to the boil
Turn down the heat and simmer for 20 minutes or until carrots and potatoes are soft
Put into a liquidizer and pulse until smooth
Return to the pan and reheat
Season to taste
Serve immediately