Onion And Fennel Tarte Tatin Recipe
I first saw this recipe idea on the Food And Drink programme – a BBC cooking programme that was on a few years ago.
Here at least they show some really easy recipes (even though being so liberal with the Calvados at times, hardly makes it low cost.) However that at least is optional.
Delightful and flavourful recipe to delight your family and friends. Low cost and easy too!
Tarte Tatin
I must admit I had already had it in mind to do a caramelised onion tarte tatin, but seeing this done on the programme just spurred me into action to cook it. And I was not disappointed with the results.
I am very fond of fennel so the idea of using fennel as well was wonderful.
Low Cost, Easy Recipe
The ingredients are clearly low cost and it is lovely served with some green vegetables. I chose purple sprouting broccoli and some cabbage.
I have made this with ready roll puff pastry because it is easy to find and is so much easier than making your own, as it is both fiddly and time consuming. Although I am a great advocate of making things where possible, there are a few limits. And puff pastry is a rare treat rather than a regular part of a meal. I nearly always make my own shortcrust pastry but buy puff pastry and filo pastry.
It is lovely to produce a tasty and interesting dish like this that it is bursting with flavour, made from low cost ingredients. I made this tart just for two people, and the quantities are for two, but just double up for four. I adapted and simplified the recipe from the programme but it is basically the same.
I made this in a small roasting tray like this one Pyrex Classic Non Stick Small Rectangular Roaster 26X19cm

and the ready roll puff pastry was the perfect size. If the pastry is not the right size or shape, just cut or shape it to the size of tin.
Onion And Fennel Tarte Tatin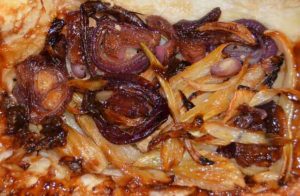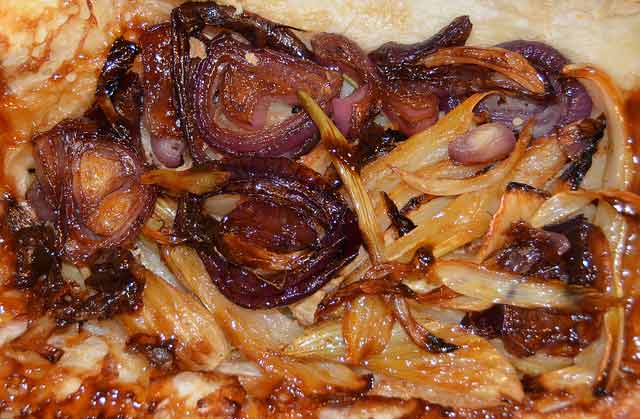 Ingredients
1 large

red onion, peeled and thickly sliced in rings

1

fennel bulb, cut into six pieces, woody core removed

200g / 7oz

ready made puff pastry

1 tablespoon

olive oil

1 teaspoon

chilli powder

1 tablespoon

balsamic vinegar

40g

caster sugar

2 tablespoons

water

25g / 1 oz

grated parmesan or other hard Italian style cheese
Cooking Directions
Preheat the oven to 200 degrees C
Cut your pastry to the shape of your roasting tin
Place the vegetables in a small roasting dish and drizzle with olive oil and balsamic vinegar
Sprinkle with chilli powder
Bake in the oven for 15-20 minutes
Meanwhile in a small saucepan add the sugar and water
Heat and boil until sugar is dissolved and the mixture is going brown
Pour over the onion and fennel
Sprinkle the onion and fennel with parmesan
Lay the puff pastry over the top, pressing it down at the sides
Bake in the oven for about 20 minutes
Remove form oven and allow to cool for a couple of minutes
Check gently with a knife that will all come away from the pan
Place a large plate over the top of the roasting tray and turn upside down
Serve immediately with some green vegetables