Spaghetti Bolognese
Spaghetti bolognese is a popular dish because it is a tasty and easy pasta recipe which can be varied according to the ingredients you have in your fridge and cupboard. There is no definitive recipe for spaghetti bolognese. People tend to develop their own favourite version of it and this recipe is no exception.
I love this version, made with meat. I do enjoy vegetarian spaghetti bolognese too, and you can simply substitute the meat with soya, quorn mince or cooked green lentils. You can also use the lentil mixture in the vegetarian lasagne recipe
A Family Favourite
This is my preferred recipe, developed over time and to the tastes of my family. The grated carrot is an adaptation that I use in several recipes as one of my children does not like carrot but found it perfectly acceptable when grated into dishes. It also sweetens the dish.
Although I do not include mushrooms in this recipe – mainly because I am not too fond of them – this is clearly an additional ingredient that could be added.
I enjoy plenty of garlic and tomato as well as herbs. I often used mixed herbs but oregano and basil are good herbs to use. Add your favourites.
Do adapt the recipe to suit your own tastes and likes.
Spaghetti bolognese is traditionally served with parmesan cheese but I think a sprinkling of mature cheddar cheese is also really good. A good green side salad goes well, with it and I am partial to a spoonful of coleslaw with it as well.
Spaghetti bolognese is best with spaghetti pasta but any pasta shapes can be used such a penne or conchiglie.
I 'dry fry' the beef as even in lean beef there is enough fat to brown the meat and then cook the onions and peppers. However if you are unconcerned about calories, you can use a little olive oil.
Spaghetti Bolognese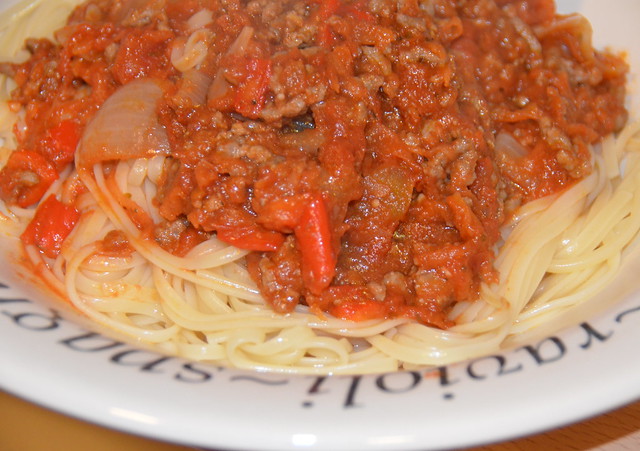 Serves 4
Ingredients
500g / 1lb

lean minced beef

1 onion

peeled and chopped

3 garlic cloves

peeled and crushed

1 pepper, green or red

de-seeded and chopped

250ml

vegetable or beef stock

400g /14oz

chopped tomatoes

2 teaspoons

dried mixed herbs, oregano or basil

2 tablespoons

tomato puree

2 medium

carrots, grated

350g spaghetti

or pasta shapes
Cooking Directions
In a large saucepan, add the beef
'Dry fry' the beef mince until brown (without any added fat)
Add the onions and cook until soft and transparent
Add the garlic and pepper and cook for a further 5 minutes
Add the stock, tomatoes, herbs, tomato puree and carrots
Stir thoroughly, cover and reduce the heat to a simmer
Cook for 30-40 minutes
Just 15 minutes before the bolognese sauce will be ready, boil the kettle with plenty of water
Use a large saucepan
If using pasta shapes, place in the pan, cover with boiling water, and stir
Simmer for 12-15 minutes or according to packet instructions
If using spaghetti, pour the water into the pan and bring back to boil
Place the spaghetti into the pan, vertically and gently lower it into the pan as it softens in the water
Once all into the water, stir gently to prevent sticking
Serve the pasta onto plates and top with bolognese sauce
Top with grated Parmesan, Pecorino Romano or cheddar cheese.