Curly Kale
People who shop in Farmers Markets of get a weekly vegetable box will be very familiar with curly kale and will have developed innovative ways of using this nutritious and prolific vegetable. It is less commonly found in the supermarket but has recently enjoyed a surge of popularity. It must be said, too that kale is often cheaper at Farmers markets and green grocers than in supermarkets (and probably fresher too!).
This easy to make brown rice vegetable dish is sustaining and delicious and uses the nutritious, tasty vegetable curly kale
Types Of Kale
There are several types of kale including the most well known curly kale. These are Cavolo nero or black kale with flat dark green leaves, hungry gap kale with flatter less curly leaves and russian kale with flat reddish leaves.
In Europe kale has been around for a very long time and older people now often had a lot of kale as a child.
Cooking Curly Kale
More recently kale has been cited as a superfood as it contains protein, vitamin A and C as well as betacarotene. But many people are unsure how to cook it as it seems to have gone out of favour for two or three decades until the last 5 years or so. In fact many people are in need of curly kale cooking instructions!
There may be no one best way of cooking kale. The answer really is that you can cook it as you would any leafy vegetable such as cabbage or spinach. It can be steamed, boiled or if you are feeling a little indulgent, fried in butter and serves as a vegetable on the side. Alternatively add it into pasta and rice. Or even mash it into potatoes with a little cheese sprinkled on top. this article on How To cook Curly Kale may help
Easy Midweek Supper dish
This rice, kale and vegetables dish is an easy way to have several vegetable. I have chosen to cook it with brown rice and vegetables. You still get the taste and of course goodness of the ale but is less of a true strong green hit. In fact the sweetness of the pepper really offsets the kale well. Very easy to cook, and you can vary the vegetables you add.
I have recently converted to cooking mainly with brown rice rather than white mainly because it is much healthier for many reasons. It has much more fibre and has a much slower release grain too.
Rice With Kale And Vegetables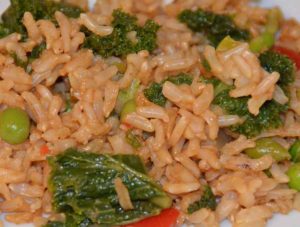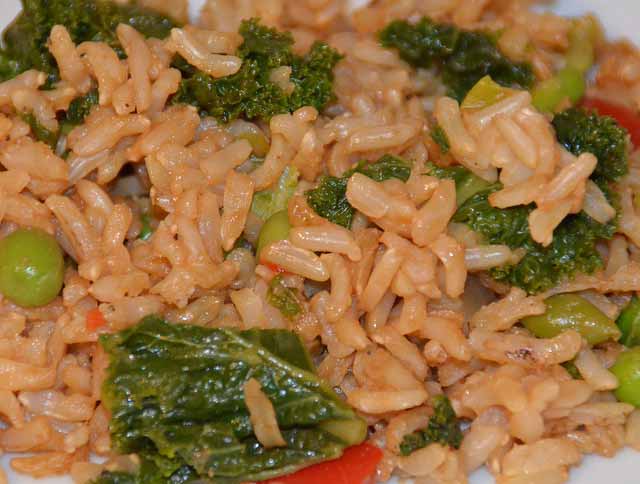 Ingredients
200g / 7oz

brown basmati rice

1 tablespoon

sunflower oil

1 medium

onion, peeled and sliced

1

leek, washed and sliced

1 red pepper

de-seeded and chopped

3 tablespoons

frozen peas

100g / 3.5oz

curly kale, chopped small, thick stalks removed

knob

butter

5 tablespoons

hot water

soy sauce

to serve
Cooking Directions
Wash the rice by covering with cold water and swirling your hand and the draining and rinsing
Place the rice in a saucepan and cover with boiling water to about 2 centimetres above the top of the rice
Bring to the boil and simmer for about 30 minutes until soft. Add more water if necessary
Meanwhile in a large frying pan, heat the oil
Add the onion and cook for a few minutes until transparent
Add the pepper, garlic and leek and cook for 10 minutes, stirring occasionally
Add the kale and peas
Stir and cook for a few minutes
Add the knob of butter
Stir fry in the butter for a couple of minutes
Add the cooked rice
If the mixture seems a little dry, add a few tablespoons of hot water
Add soy sauce to taste
Serve immediately