Squash And Bean Soup – Perfect Together
Some things just go together and in my opinion, squash and beans are a brilliant combination in a soup.
When days are cold and a substantial lunchtime soup is required this just hits the spot in both flavour and substance. It looks pretty good too! It is a main course type soup with plenty of protein as well as the nutrition from the vegetables.
This satisfying soup is both tasty and filling, and it looks really good too! The sweet squash really complements the haricot beans
Lunch Or Supper
Great for lunch on its own or as a simple supper, served with some bread and perhaps some salad or potato wedges it is tasty and very satisfying.
Squash is lovely to taste and to look at. Use a crown prince squash or a butternut squash, either will give that amazing flavour. I used haricot beans but you could use cannellini beans, butter beans or other beans but I do think white beans are best.
Haricot Beans At The Ready
I often have haricot beans in my freezer that have been soaked and boiled in a large batch and then put into portions to be frozen. However you can always use a tin of plain haricot beans instead. Tinned beans are just as good but if you buy dried beans in bulk, they do work out a lot lower cost.
Squash is often very sweet and is lovely for this but if you prefer to add a bit of a tang the addition of some lime juice just really make sit – but you can leave it out if you prefer.
I am always sad when the crown prince squash season comes to and end as it really is the best – even though the end of the season really should mean that Spring is not far away with all the lovely vegetables that will bring!
Butternut Squash And Bean Soup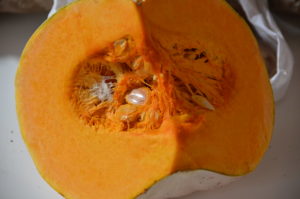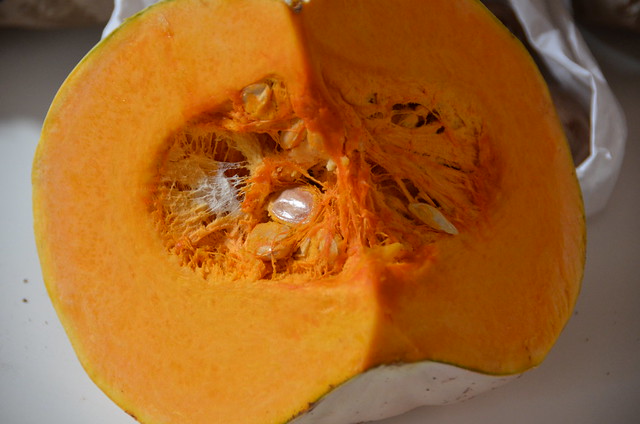 Ingredients
1 tablespoon

olive oil

1 medium

butternut squash (or 1/3 crown prince squash)

1 onion

peeled and chopped

2 cloves

garlic, peeled and sliced

2 medium

carrots, peeled and sliced

2 teaspoons

paprika

1 litre

vegetable stock

1

sweet potato

225g or 1 400g tin

haricot beans

salt and black pepper

to taste

1 dessert spoon

tomato puree

1-2 teaspoons

lime juice
Cooking Directions
Pre-heat the oven to 200 degrees C
Halve the butternut squash and remove seeds
Cut into chunks – around 2.5 cm and place in a roasting tin
Brush with olive oil and bake in the oven for about 30 minutes
Meanwhile heat the oil in a large saucepan and gently cook the onions
Add the garlic and carrots
Stir and cook for about 5 minutes
Add the tomato puree to the stock and stir
Add the stock to the onions and carrots and bring back to the boil and simmer for 10 minutes
When the squash has started to soften, cut off the skin and add the pieces into the saucepan
Continue to simmer until all the vegetables are soft
Place in a liquidizer to smooth
Return to the pan and add the beans
Heat through
Add the lime juice and stir
Season with salt and pepper to taste