Millet For Dinner
Millet may not yet be an everyday ingredient in our UK dinners but perhaps it should be as it is full of nutrients, vitamins and fibre and is low cost! It is an ancient grain and right now is responsible for feeding around 1/3 of the worlds population. It is used as a grain and flour for bread and in soups.
Millet may not be an obvious ingredient for your main meal, but it is low cost, easy to cook and nutritious – and this millet dinner recipe is really delicious!
In the United States and UK it is more likely to be used for bird feed or animal feed than for the human dinner plate. And yet it is versatile and tasty, being slightly sweet.
Cheesy Millet Recipe
I first encountered millet and this recipe in The Cranks Recipe Book
. The recipe is made with cheese and vegetables. I cook this dish quite regularly. I have adapted it slightly from the original recipe over the years but it is till true to the original.
It is really tasty as well as being a very easy recipe. Millet is inexpensive so this meal is well under £5 for a meal for four people, depending on the cost of the cheese and other vegetables that you use.
The combination of flavours in this recipe just work and go together deliciously. You could add other vegetables such as peppers and peas. This dish can be reheated in the microwave or oven if you have any leftovers
I serve this with boiled potatoes. It could be eaten with bread and a leafy salad. millet is quite starchy so the vegetables in it provide a good contrast and the lemon gives it an added dimension
Buying Millet
You may find it less than easy to find a packet of millet in the supermarket. It is easy, however, to find in health food shops and it should be around £1.50 for a 500g pack of which you will need about 1/4 for this recipe.
Millet With Vegetables Recipe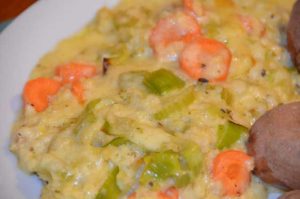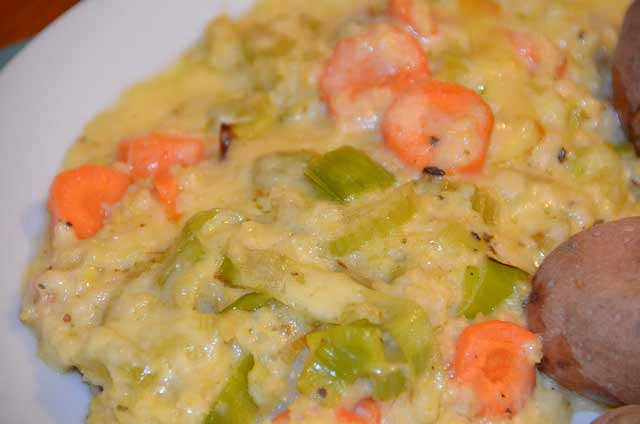 Serves 4
Prep time: 10 minutes
Cook time: 20 minutes
Total time: 30 minutes
Ingredients
125g / 4oz

millet

600ml

water

25g / 1oz

butter or margarine

2 medium

leeks, washed and sliced

2-3

carrots, peeled and thinly sliced

3 sticks

celery, finely sliced

1 heaped tablespoon

plain flour

300ml

milk

1 teaspon

dried sage

1 lemon

rind grated and juiced

125g / 4ozs

cheddar cheese, grated
Cooking Directions
Place the millet in a medium saucepan
Add boiling water and simmer for about 15 minutes or until all the water has been absorbed
Meanwhile, heat the butter in a large heavy bottomed frying pan
Add the leeks, celery and carrot and cook on a medium heat for 10 minutes until soft, stirring occasionally
Add the flour and stir to distribute and cook for 1 minute
Add the millet and stir
Add the milk, lemon rind, lemon juice and sage
Stir and bring to the boil, reduce heat
Sprinkle the cheese over the mixture
Place under a hot grill to bubble the cheese
Serve immediately