Easy Rock Cakes
Rock cakes are one of the easiest cakes to bake and are tasty too! Traditional rock cakes have currants or sultanas and a touch of cinnamon spice.
The basic Rock Cake Recipe can be adapted to other ingredients. As someone who is a great fan of ginger, I couldn't resist trying out Ginger Rock Cakes.
The recipe is very similar to the original but uses powdered ginger instead of cinnamon and stem ginger instead of the fruit. The result is a delightfully gingery bun
Rock cakes may be an easy recipe, but it is delicious and exciting, especially when made with a variation like this recipe for Ginger Rock Cakes
.
Rock cakes are very simple to make and it is a fun recipe to bake with children. It doesn't take long and the children will be able to sample their efforts ins a short time span!
Ginger – An Ancient Spice
Ginger has many health giving properties and has been used for various ailments through out the centuries. It always seems a good ingredient to use, especially in the winter, for its warming properties.
Ginger is a favourite of mine and I am partial to ginger wine and ginger with chocolate occasionally too! Stem ginger is available in jars at most supermarkets. It is preserved ginger in a sugary syrup. It's lovely served with ice cream if you want a deliciously simple dessert!
I used four balls of stem ginger cut up small and one teaspoon of powdered ginger and this gave a good gingery taste without being overpowering.
Rock Cakes For All Occasions
Although rock cakes are easy to make they are a suitable cake to grace any teatime table or craft and coffee and cake event. In fact they may be more popular than some fancy cup cakes! I regularly make rock cakes for a local craft fair and they are soon sold out!
Ginger Rock Cakes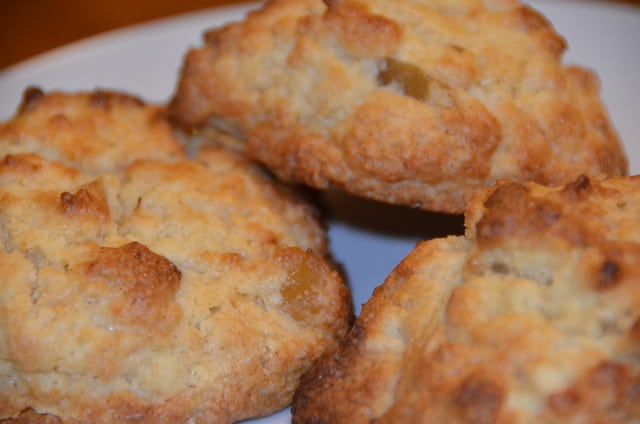 Ingredients
225g / 8oz

self-raising flour

110g / 3.5oz

butter or margarine

90g / 3oz

caster sugar

110g / 3.5oz

sultanas

1

egg, beaten

2 tablespoons

milk

1 teaspoon

powdered ginger

4 balls

stem ginger, chopped
Cooking Directions
Preheat the oven to 180 degrees C
Sift the flour into a bowl
Rub in the butter or margarine with your fingers, until it looks like breadcrumbs
Stir in the sugar and powdered ginger
Add the beaten egg and milk and stir with a spoon into a dough, then use your hands to bring it all together
Grease a baking tray or line with baking parchment
Place the dough on the baking sheet using two teaspoons. Use one spoon to scoop up the dough and the other to scrape it off the spoon on to the baking tray. Make about 9 blobs to make good sized rock cakes
Bake for about 15 minutes until golden brown
Allow to cool on a wire tray. Delicious if eaten when still warm, but once cool store in an airtight container for 3-4 days.