Stuffed Peppers With Chicken
Peppers can be stuffed in so many ways it is often a lovely way to cook a low cost meal, using what you have in your cupboards or fridge. Roasted stuffed peppers are so full of flavour and sweetness and they are a good partner for so many foods – from meat and cheese, to rice, couscous and tomatoes.
Stuffed Peppers With Chilli chicken is easy to make, economical and full of flavour. Serve as a midweek supper or at a dinner party
Not only are peppers delicious but they are high in nutrition too.
With much more vitamin C than an orange, they are high in anti oxidants and low in calories. They are also high in vitamin B6.
The best time to buy peppers is when they are available from local suppliers, fresh from the plant, in the summer, but they are grown all the year round and are available in supermarkets. They are grown in the UK all year round by suppliers such as Thanet Earth.
They are also quite easy to grow yourself and if you love peppers, growing your own can certainly save a lot of money as well as being great fun and satisfying!
Economical Chicken Recipe
Because I like to buy local free range chicken, I tend to use small amounts – to get the flavour but without being too expensive. For this recipe I have used four chicken drumsticks to serve four people. This is enough chicken for plenty of flavour and mixed with the rice and vegetables there is plenty to fill you up. Alternatively you can use some leftover cooked chicken from your Sunday roast
I used 2 chillies to give plenty of spice but you can use more or less than this depending on how hot you like your food. Chillis can vary in how hot they are and I would try to steer clear of the really hot varieties.
Brown Basmati Rice
I used brown basmati rice in this recipe but you can use white rice too. White rice is still good for you and will be delicious in this recipe.
Serve With Salad
I served these stuffed peppers with some salad as the rice and chicken make it quite filling. You could serve with green vegetables and / or some garlic bread.
This is one of several Stuffed Pepper Recipes on this website
Stuffed Peppers With Chicken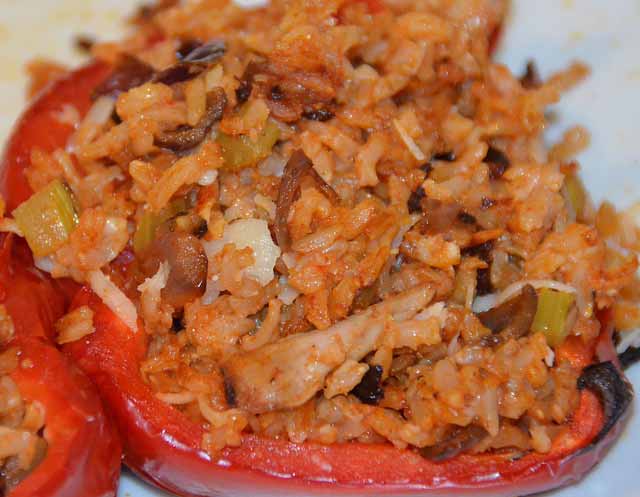 Ingredients
4

chicken drumsticks

200g / 7oz

brown rice (or white rice if preferred)

4 peppers

red, green or yellow peppers – or a mix

1

red onion, peeled and chopped

2

celery sticks, chopped small

1-2

chilli peppers, finely sliced

1 dessert spoon

tomato puree

1 teaspoon

paprika

2-3 tablespoons

water

100g / 3.5oz

Italian style hard cheese (Parmesan, Pecorino or Romano), grated

1 tablespoon

olive oil

2-3 cloves

garlic, peeled and finely chopped
Cooking Directions
Preheat the oven to 180 degrees C
Place the chicken drumsticks in a roasting dish and bake for about 25 minutes until cooked.
Meanwhile wash the rice in cold water, and rinse
Place in a saucepan and cover with boiling water with about 2.5 cm extra cover
Bring back to the boil and simmer until all water has been absorbed and the rice is soft (about 30 minutes – less time if using white rice)
Remove the skin from the chicken drumsticks and discard.
Remove the meat and chop into small pieces
Slice each pepper in two lengthways and remove the pith and seeds
Lie them down like bowls in a roasting dish and set aside
In a large frying pan, heat the oil
Cook chopped onion until transparent
Add the celery, garlic and chilli and cook for a further 5 minutes
Add the rice,chicken, paprika, tomato puree and water and heat through stirring thoroughly
Turn off the heat and stir in 2/3 of the grated cheese
Fill all the half peppers with the mixture as evenly as possible
If there is any mixture over, leave in the pan to reheat and add to the plates when serving
Sprinkle the top with the remianing grated cheese
Bake in the oven for about 30 minutes
Serve hot