Goats Cheese Quiche
Quiches are a very versatile meal and this Goats Cheese Quiche is especially tasty. It can be prepared in advance and eaten hot or cold. Suitable for packed lunches, buffets and picnics as well as a substantial main course dinner.
The ingredients of a quiche can be varied according to taste and what you have available. They can be put together in minutes and then put in the oven to bake. The pastry can be made from wholemeal or white flour or from wholemeal or white spelt flour, which is what I used for this quiche.
This easy quiche recipes is delicious for a main meal and is also tasty as part of a buffet, packed lunch or picnic
You can, of course, also buy ready made pastry if you are short on time. However if you have not made pastry before I would urge you to try as it is surprisingly quick and easy to make and very low cost.
Most quiches are made with a basic egg and milk custard, with the addition of your favourite ingredients. This recipe makes the most of the affinity of leeks with goats cheese.
Pastry For Quiche
Since there are many people who are wheat intolerant, I wanted to try making some pastry from spelt flour. Whilst this is not suitable for people on a gluten free diet, it is often good for people with a wheat intolerance.
The pastry was made in exactly the same way as shortcrust pastry made from wheat flour and the result was really good. There are some reasons other than wheat intolerance too why people might choose spelt flour over wheat flour. Spelt flour is a little more expensive than wheat flour and is often organic. It is now widely available in large supermarkets and also in local food stores and health shops.
Leeks
Leeks have a long time in season throughout the winter months and are among my favourite vegetables. They go well with cheese, nuts, lentils and vegetables and there are many leek recipes on this website.
Leeks are often lower price from local suppliers and Farmers Markets than from supermarkets, so do check your prices.
Goats Cheese Quiche Recipe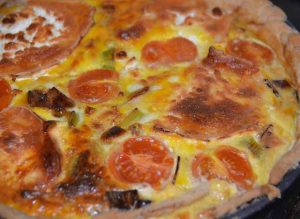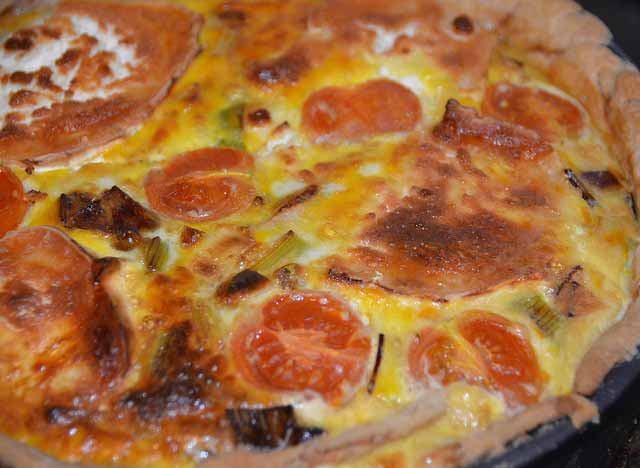 Ingredients
For the Pastry
140g / 5oz

white spelt flour

40g / 1.5oz

butter or margarine

40g/ 1.5oz

white vegetable fat

3 tablespoons

water
For the Filling
1 teaspoon

olive oil

2 medium

leeks, sliced

3

free range eggs

150ml

milk

100g / 3.5oz

soft goats cheese

4-5

cherry tomatoes, halved
Cooking Directions
Make the Pastry

You will also need a 20cm quiche flan or cake tin
Sieve the flour into a bowl
Using your finger tips rub the fat into the flour until it resembles breadcrumbs
Add the cold water and stir and then using your hands pull the ingredients together to form a dough
Roll into a ball and place in a plastic bag and place in the fridge to 'rest' for about 30 minutes
Meanwhile grease a quiche tin
While the pastry is resting…

Make the Filling

Heat the oil in a frying pan
Fry the leeks gently for about 10 minutes until soft
Remove from heat and set aside
Beat the eggs together with the milk
Slice the goats cheese into four pieces

Make the Quiche

Dust the work surface with flour
Roll out the pastry to a size a little larger than the cake tin
Gently place it in the tin and trim off the edges
Line with greaseproof paper and put in baking beans or pulses
Bake in the oven for about 7 minutes (this is blind baking)
Remove the baking beans
Place the leeks in the bottom
Pour in the egg and milk custard
Add the cheese evenly
Add the tomatoes arranged evenly
Bake in the oven for 30-40 minutes until firm to the touch and brown