Oatmeal For Baking
In my quest for alternative ingredients to wheat flour I have been cooking with spelt flour. I then realised that oatmeal can be a good ingredient instead of flour – especially for cookies where the gritty texture and nutty flavour can enhance any cookie! In fact it is clear that going wheat free really isn't so hard if you do your own cooking, since there really are many alternatives. This recipe can also be made with wheat flour if you prefer, too.
These easy to bake cookies have the goodness of oatmeal, spelt flour and raisins – and they taste delicious! Enjoy the pleasure of baking
Oatmeal can be used in pastry, cookies, biscuits and muffins. And you get all the health benefits of oats.
Oatmeal is ground rolled oats. Do not confuse it with instant oatmeal as this is precooked and will not work so well in recipes.
I also discovered that in America, Oatmeal refers to rolled oats as well as ground oats, so if you follow an American recipe that includes oatmeal – it may well mean oats.
Making Cookies
Cookies can be really unhealthy with high sugar and little nutritional benefit, or they can be a tasty treat that actually does have some goodness in it. Adding raisins and cooking with oatmeal and spelt flour makes these cookies a much better choice, nutritionally. Spelt flour has nutritional benefits over wheat flour, although you can use wheat flour in the recipe instead – white or wholemeal.
Generally cookies and biscuits are quite easy to make. Home baking is fun and the results taste so much better than any bought biscuits. Plus you don't have to worry about nasty additives or trans fats or any other extras that you don't want. Home made cookies work out much lower cost too.
Baking is good therapy. You are doing a gentle and creative task but your mind can wander and ponder other things and you may find you have some greats ideas in the process.
Or put on the radio and listen to a talk show or some great music. If, like me, you do spend too much time in front of a screen, baking can get us in touch with a simple, necessary task that has been going on for centuries and carried out by our ancestors. Much more fundamental to our lives and existence than the digital age!
Oat And Raisin Spelt Cookies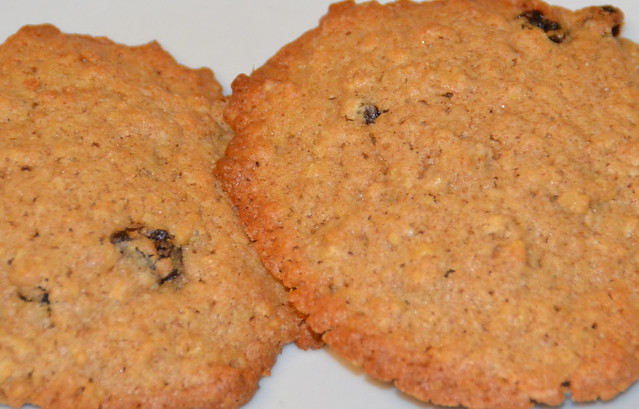 Ingredients
75g / 2.5oz

sugar

85g / 3oz

butter or margarine

1

egg

1 teaspoon

baking powder

1 teaspoon

cinnamon

100g / 3.5oz

spelt flour (or wheat flour if you prefer)

50g/1.75oz

oats

2 handfuls

raisins
Cooking Directions
Preheat the oven to 180 degrees C
Cream together the butter and sugar until light and fluffy
Add the egg and beat together
Add the flour, cinnamon and baking powder
Beat to combine
Add the oats and mix in
Add the raisins
Line a baking tray with baking parchment or grease with butter
Using 2 teaspoons place a teaspoonful of dough and press down to flatten
Bake in the oven for about 10 minutes
Allow to cool for a few minutes, then transfer to a wire cooling rack
Delicious when still slightly warm!