Nutritious Kale
Kale has along season through the winter months. Although not widely available in supermarkets, it is often a staple of vegetable box schemes such as Riverford and found in abundance at Farmers markets. Recently hailed as a superfood it is full of flavonoids and is said to lower cholesterol and protect against cancer.
This Kale and Feta Cheese Flan recipe is a tasty and easy way to make the most of curly kale. Made with oatmeal and spelt pastry
It can be eaten raw in salad or as a side vegetable, boiled or steamed but it is at its best, in my opinion when combine with other ingredients to add some green colour and flavour to many dishes.
As humans we have been eating kale for thousands of years. I suspect people ate more kale 50 years ago when more people grew their own vegetables. It was certainly much more popular in the Middle Ages
There are several types of kale – with curly kale probably being the most popular. There is also Hungry Gap Kale, Red Russian Kale and Black Kale (or cavalo nero)
Feta Cheese
Feta cheese is a traditional Greek cheese original made with sheep's milk but much commercially produced feta cheese os cows milk. It is relatively high in sodium and saturated fat so it its best eaten with plenty of vegetables and in moderation.
It is superb for flavouring tarts and pasta dishes in combination with other vegetables.
Oatmeal Pastry
I decided to make oatmeal pastry for this dish to give the pastry more crunch and crumble. The oatmeal is combined with spelt flour to make a low gluten, wheat free pastry. You can of course make ordinary wheat flour pastry if you prefer – see How To Make Pastry
Oatmeal has a lot of health benefits and I think it could be good to find ways to eat more of it. Oats and oatmela can often be used in place of flour. It also gives a more nutty flavour and robust texture. I think it goes with this flan really well.
Serve this flan hot or cold with new potatoes and a green salad or green vegetable
Kale And Feta Cheese Flan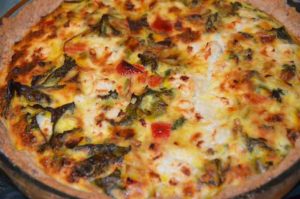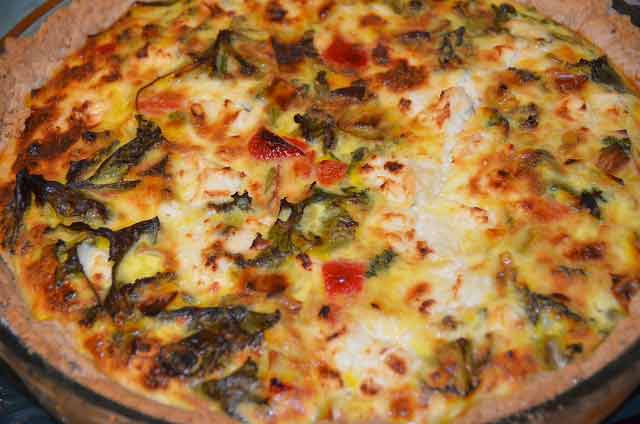 Ingredients
100g / 3.5oz

oatmeal

100g / 3.5oz

spelt or plain flour

50g / 1.5 oz

butter

50g / 1.5oz

vegetable fat

1 tablespoon

water

1

leek, sliced

1/2

pepper, deseeded and chopped

100g / 3.5oz

curly kale, chopped

100g / 3.5oz

feta cheese

1/2 teaspoon

nutmeg

3

eggs

200ml

milk
Cooking Directions
Make the Pastry
Mix together the oatmeal and flour
Rub in the fat
Add a tablespoon of water and bring the mixture together with your fingers
Roll into a ball and put in the fridge to rest for about 30 minutes
Preheat the oven to 180 degrees C
Meanwhile prepare the vegetables
Heat the olive oil in a frying pan
Add the leeks and peppers and cook for about 5 minutes, stirring occasionally
Add the kale and cook for a further 5 minutes or so until wilted down
In a bowl beat the eggs together and add the milk
Add the nutmeg
When the pastry is rested, roll it out
Grease a 20 cm flan dish
Place the pastry into the flan dish, trimming the edges
Put the vegetable mix in the base
Pour over the egg and milk
Crumble on the feta cheese
Bake in the oven for about 40 minutes until slightly risen, firm and browning
Serve with green vegetables, potatoes and / or salad