Yum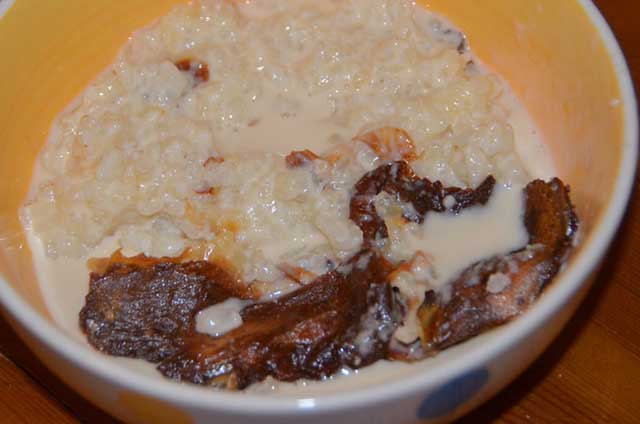 Classic Rice Pudding – Easy, Low Cost Pudding
Rice pudding must be one of the simplest recipes in existence and makes such a delicious pudding. All you need is milk, rice and sugar. Taking just minutes to prepare the cooking time is quite long at around 2 hours. But once you have made it you can put it in the oven and get on with the rest of dinner.
Low cost, warming and nutritious! It's the sort of pudding you can easily put together when there is very little in the cupboard and you or your family are in need of a bit of comfort food! It's probably in the same sort of category as Bananas and Custard. Why make life complicated, when it really can be this simple.
Simple pudding recipe, prepared in minutes then goes in the oven, Sweet, filling and nutritious – ideal for people on a budget but you you don't have to be on a limited income to enjoy it!
Rice pudding is made with short grain rice.
It is best made with whole milk for a creamy flavour but it is good with semi skimmed and even skimmed milk, especially if you add a bit of evaporated milk before eating it. Rice pudding can be spiced up with nutmeg and / or cinnamon. You can even add a spoonful of sultanas to add a little extra something…
Rice Pudding – Popular since the 1600s
Rice pudding has been a popular dessert in the UK since the 1600s.
It probably gets a bit over looked these days, but even if it doesn't appeal to you plain add some sultanas and serve with fruit – apples, peaches or berries depending on what is in season or what you have in your kitchen. It's also had some bad press in the past from AA Milne – remember What is the Matter with Mary Jane? -(It's lovely rice pudding for dinner again!) There are rice pudding recipes in most parts of the world. Sometimes it has the addition of eggs, different spices and different fruits.
Some people like quite solid rice pudding and others prefer it more runny. You will need to adjust the proportion of rice to milk, accordingly, until you have found the consistency that is right and appealing for you. Many people (including me) love the skin that forms on the top. Check before serving who likes it and who does not, as it is a real shame if any of it gets left!
Try serving rice pudding to your family – see how they are suddenly reminded of how nice it can be – and enjoy how low cost it is!
My favourite way to serve it is with a dollop of jam and a good swirl of evaporated milk.
You will need a Pyrex Casserole dish
Rice Pudding Recipe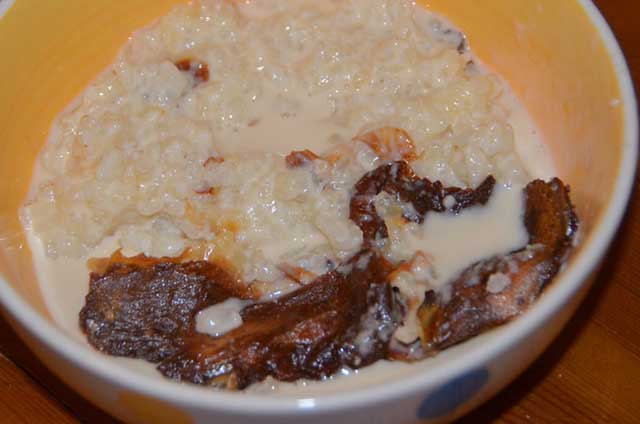 Serves 4
Ingredients
110g / 4oz

pudding (short grain) rice

50g / 1.75oz

sugar

700ml

whole milk (or semi skimmed for lower fat)

pinch

nutmeg
Cooking Directions
Preheat the oven 150 degrees C
Grease a casserole or baking dish with butter
Wash the rice by placing in a sauce pan, covering with water and swirling with your hand
Drain off the water and place rice in greased dish
Sprinkle on the sugar and cover with milk
Stir and sprinkle nutmeg over the top
Place in the oven and bake for 2.5 hours (check after 2 hours as ovens vary)
Serve hot or cold with jam and / or evaporated milk