Tomato And Mozzarella Vegetarian Pasta Recipe
This is one of those vegetarian pasta dishes that tastes so good it seems wrong that it is so easy! It is made from really simple ingredients that just go together beautifully and deliciously!
Because it is good to roast the tomatoes first and then steep all the ingredients together for a couple of hours, it is not a quick dish – but those two stages take little preparation and then can be left alone. The only real cooking time requiring attention is the 10-12 minutes for the pasta. If this a supper dish for family or friends you can get everything ready before they arrive!
This pasta dish with roasted tomatoes and mozzarella is an every day supper dish that tastes really special! Easy to make, low cost and delicious!
Cheese, Tomatoes And Basil
Cheese, tomatoes and basil just go together. Fresh basil leaves are best if you grow your own basil or feel like splashing out and buying fresh leaves but dried basil is also still good and is less expensive than fresh.
Do use the tastiest tomatoes you can find. Cherry tomatoes on the vine or plum tomatoes are the best. Buy local ones when tomatoes are in season – and organic when you can. You may find tomatoes lower cost at the Farmers market or local independent greengrocers than at the supermarket. The long slow roast does bring out the best flavour in the tomatoes.
NB You could make this dish with good Italian tinned plum tomatoes which you can roast too. Drain off the juice and halve to roast.
Mozzarella Cheese
Mozzarella is an Italian cheese that was traditionally made from water buffalo milk but it is often now made from cows milk as it is much less costly and cows are more available!. It is a very mild cheese with a slightly rubbery texture that goes quite stringy and elastic as it melts. It is often used on pizzas and in pasta dishes
Curly Kale (Optional Extra)
When kale is in season it is good to add to a pasta dish such as this although it is entirely optional. It add ssome flavour, and some added goodness to the dish. It is a good way to get children to eat some keale too, if they won't eat it as a side vegetable (this goes for adults too!)
Serves 4
Pasta With Tomato And Mozzarella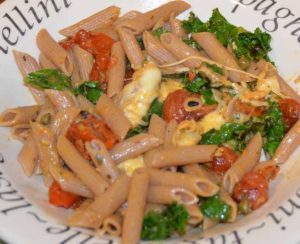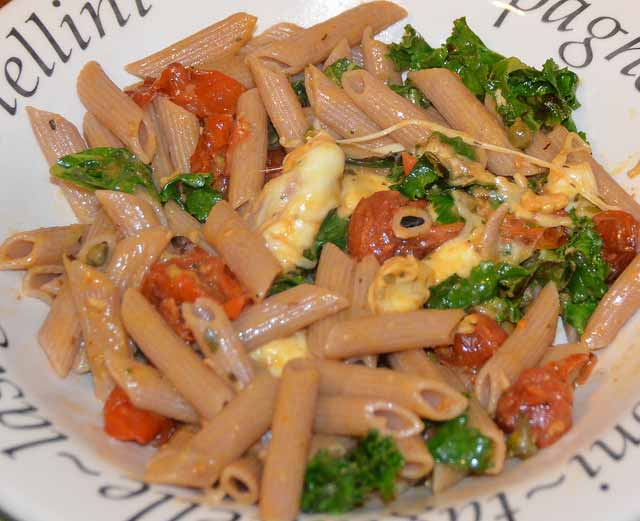 Ingredients
1kg /2lb

fresh cherry tomatoes

125g /4oz

mozzarella cheese, chopped

2 tablespoons

olive oil

2 cloves

garlic, peeled and crushed

1 tablespoon

capers, drained

15-20 fresh basil leaves or

2 teaspoons dried basil

1 teaspoon

dried oregano

400g / 14oz

pasta shapes

50g-100g / 2oz-3oz

curly kale, chopped(optional)
Cooking Directions
Preheat the oven to 130 degrees C
Chop the tomatoes in two
On a baking tray place the halves skin down
Drizzle with half the olive oil
Bake in the oven for 90 minutes
Place in a bowl
Add the basil, oregano, garlic, capers and mozzarella and 1 tablespoon olive oil
Stir well and leave for up to 3 hours
Cook the pasta in plenty of boiling water
Meanwhile,if adding kale, heat a little butter in a frying pan
Stir fry the kale, until it is wilted and soft
Drain, the pasta when cooked
Stir the tomato and mozzarella sauce into the pasta and stir in the cooked kale
Serve with a green salad and some garlic bread