Spelt Flour For Bread
Having learned to make bread with white and wholemeal wheat flour I tried my hand at making Spelt bread. Spelt flour may seem like a more unusual commodity these days, but was once much more widely used than wheat. Wheat became popular because it is much easier to grind and gradually Spelt dropped out of useage.
Bread made with Spelt flour is easy and relatively quick to bake to create a delicious loaf. It is also good for people on a wheat free diet
Spelt flour is however now experiencing a revival especially with a growing number of people going on a wheat free diet. Spelt contains gluten so is not suitable for a gluten free diet, but it is much lower in gluten than wheat and I understand it is of a different structure that breaks down more easily, making the bread more digestible.
There has also been an increase in interest in artisan bread making, so people are increasingly interested in different types of bread. Artisan bread is wonderful to buy, but often a bit pricey, so why not make your own artisan bread – it is easier than you think, especially using spelt flour as it requires less kneading than other breads.
And we all know home made bread is so much nicer than any bought sliced loaf from the supermarket!
Making Your Own Bread
When making your own bread it is also, in my opinion much easier to make than wheat bread – and quicker too. It requires a shorter kneading time and it can be made with just one proving too so it can be made from start to finish in about an hour and a half.
Over the twentieth century bread-making seems to have changed from an everyday normal activity to something that is more of a difficult and specialist skill in people's perception so if the tide is turning again back to people knowing that they can make their own bread this is a good thing. I guess bread-making machines are helping and reduce the time a person needs to spend on it while still getting the benefit of freshly made bread.
For me kneading dough is therapy time! Turn on the radio or use the time to allow your thoughts run freely. It can be very good for your mental health. Not that kneading bread is mundane – but it doesn't take up a lot of brain space – and that is when the magic can really happen – you know when you are just going about some daily chores and suddenly the answer to a problem pops into your head!
Bread making is some time to yourself, creative and produces a wonderful loaf for you and your family to enjoy! So what's stopping you?
You can buy spelt bread flour in most large supermarkets and in local health food shops or shops specialisng in local food. It is usually quite abit lower cost in the large supermarkets. You can buy wholemeal or white spelt flour
Wholemeal Spelt Bread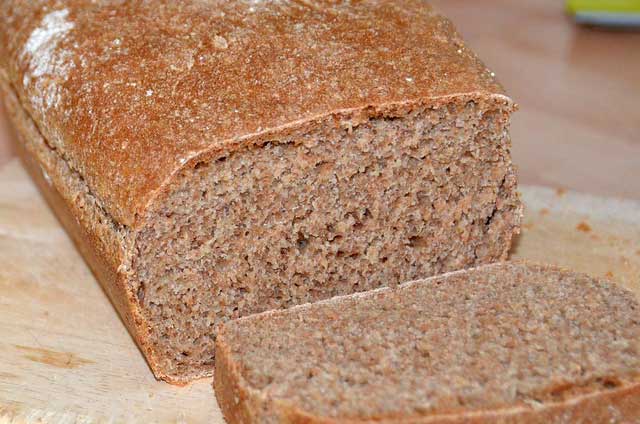 Ingredients
450g / 1lb

wholemeal spelt flour

1 teaspoon

sugar

1 teaspoon

salt

1.5 teaspoons

dried yeast

1 tablespoon

olive oil

325ml

tepid water
Cooking Directions
Grease a 2lb loaf tin
Put the flour in a large bowl and add the yeast, salt and sugar
Stir to mix
Add the oil and water
Stir to mix
Bring together the mix with your hands
Turn out on a work surface
Knead for about 5 minutes
Place in a bowl, cover with a tea towel at room temperature for about one hour until it has doubled in size
Turn out on a work surface, knock back and knead for a few minutes
Shape into loaf tin size by folding the dough and shaping
Place in the loaf tin, cover and leave for about 30 minutes
Bake in the preheated oven at 220 degrees c for 40 minutes
Turn out and cool on a wire rack