Scones With Variety
Once you have mastered the basic fruit scone recipe, you might have some fun trying out some more scone recipes. These scones with ginger make a delightful change from plain scones or scones with fruit.
Once you bake scones at home, there are all sorts of variations you can try. These ginger scones are easy to make and bring a bit of spice to the basic scone!
The basic scone recipe is the same whatever you add to the scones. I have made these scones with white spelt flour so they are suitable for people who don't eat wheat (although please note, they are not gluten free.) Spelt flour is now readily available in larger supermarkets or small, local health food and stores and independent grocery stores that specialise in local food. Spelt flour makes really tasty scones – robust, yet light.
Scone Recipe With Ginger
Ginger may not seem an obvious ingredient for a scone but it works really well and has encouraged me to may be try some other different ingredients.
I used stem ginger that you can buy in jars from most supermarkets. They are in syrup and are all ready sweet so they add sweetness to the scone without having to add any further sugar. You can chop the ginger up into the size you wish.
Scones are very quick and easy to make and are at their very best when they are still warm from the oven. If you can time your baking this close to the eating, you will get maximum appreciation from the recipients! However they will keep well for about 2 days stored in an airtight container.
Scones With Ginger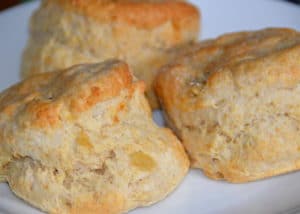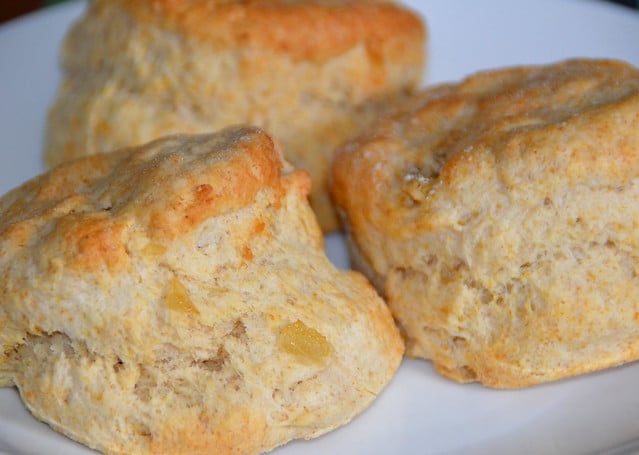 You will need:-
Ingredients
230g/8oz

white spelt flour or plain white wheat flour

1 tablespoon

baking powder

40g/1.5oz

butter or margarine

150ml/5floz

milk

3-4 cubes

stem ginger
Cooking Directions
Preheat the oven to 200 degrees C
Sift the flour into a large bowl
Add the baking powder and stir well
Rub the butter into the flour with your fingertips, until it looks like fine breadcrumbs
Chop the stem ginger cubes into small pieces
Stir the ginger into the flour mix and stir well
Pour in the milk and stir with a wooden spoon until all the liquid is incorporated
Flour your hands and bring together the ingredients into a dough
Sprinkle the work surface with spelt flour and roll the dough out to about 2.5cm thickness. You can do this by just pressing the dough with your hands – or use a rolling pin
Cut out with a 7-9cm pastry cutter (use larger or smaller or shapes depending which scone size you would like)
Pick up the remaining dough and knead together to roll out again until all the dough is used
Place on a baking tray that is greased, or lined with baking parchment or a teflon baking sheet
Bake for about 15 minutes or until risen and golden brown
Place on a cooling rack
Eat while still warm, to have them at their very best!
Keep for 1-2 days in an air tight container – or freeze