Economical And Easy Supper
It is really good when I bake something that is economical and simple and that tastes so good you would make it again every week! This dish is made from seasonal vegetables, cauliflower, leeks and potatoes. It can be served as a main course with an extra vegetable or as a side dish with a main course, may be as part of a dinner party menu. It will serve 2 to 3 people as a main course or 4-6 people as a side dish.
Low cost and delicious, this easy cauliflower and potato bake recipe makes a great midweek supper as a main course, or an lovely side dish for a dinner party
Cauliflowers
Cauliflowers are in season through the winter. There are many ways to cook cauliflowers much beyond boiling or steaming and cauliflower cheese – delicious as those options are!
To get the best cauliflowers, buy them from a supermarket or local food supplier. The cauliflower will be fresher, being more recently picked, and will taste delicious. Cauliflowers are very nutritious being high in certain vitamins and antioxidants. This recipe is a delicious way to include more cauliflowers in your diet.
Leeks
Leeks of course go wonderfully with potatoes and cheese and this dish makes the most of that pairing. Leeks are in season throughout the winter and add delicious flavours to many dishes
The leeks in this dish are used in the cheesy sauce that tops the potatoes and cauliflowers.
Low Cost Supper Dish
Cauliflowers are generally sold at around £1. The total cost of this dish will be around £3 depending, obviously on what you pay for the fresh vegetables, or indeed whether you have your own vegetable patch or allotment! It is a great way to get your children to eat vegetables, since few can resist a cheesy sauce!
Get you potatoes from a local supplier if you can for maximum flavour!
Easy Cauliflower And Potato Bake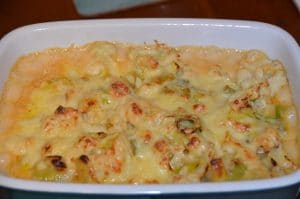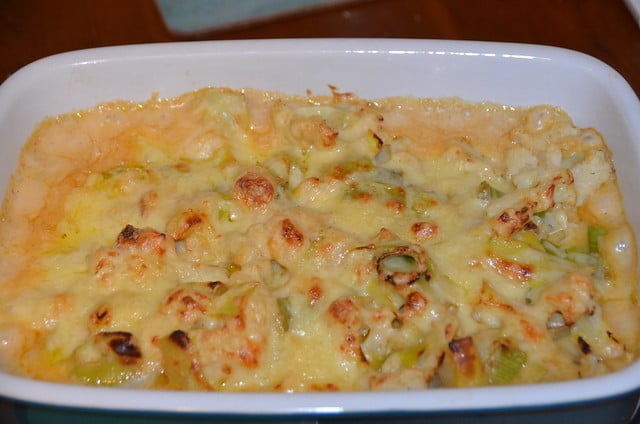 Serves 3-4 as Main Course
Prep time: 20 minutes
Cook time: 30 minutes
Total time: 50 minutes
Ingredients
1 medium

cauliflower, broken into small florets

2-3 medium

potatoes, peeled and sliced

2 medium

leeks, washed and sliced

4 tablespoons

plain flour

500ml

milk

1 teaspoon

paprika

110g / 4oz

grated cheddar cheese

1 tablespoon

vegetable oil
Cooking Directions
In a steamer if you have one, boil the potatoes in the bottom pan and steam the cauliflower – or boil each in separate pans until just cooked
Meanwhile, heat the oil in saucepan and saute the leeks until soft
Stir in the flour and cook for two minutes
Add the milk, stirring all the time
Continue stirring until the milk has thickened and boiled
Add the paprika and half the cheese
In a lasagne type dish, place the potatoes in the bottom. Add the cauliflower on top.
Pour the leek and cheese sauce over the top
Sprinkle with the remaining cheese
Bake in a preheated oven at 180 degrees C for about 30 minutes until browned
Serve hot with a vegetable or salad