Meatballs – Beef Mince Recipe
Beef mince makes many low cost and delicious family meals. These meatballs are really simple to make with a few ingredients and you can add your favourite flavourings too making them more spicey or more herby! Served with a simple tomato sauce they make a filling and comforting supper. Simple enough for a midweek supper. The whole dish with the tomato sauce and pasta cost £5-6.
Beef mince is versatile for many different recipes. Meatballs are surprisingly easy to make and taste delicious. Ring the changes by using different herbs and spices
Beef mince is best purchased from a local butcher where they can tell you the exact source of the meat.
And that is also a good reason for making your own home made meatballs rather than buying them ready made. And of course you know exactly what is in them and you can control the level of salt. No added E colours or preservatives either!
Meatballs – Popular Everywhere!
There are many different styles of meatballs from many different countries. The recipes vary according to local ingredients and traditions. – and how they are cooked.
It would appear that meatballs have been around a long time – possibly even dating back to Roman times. Meatballs have probably often been used as a way of making meat go further by combining it with other, lower cost ingredients such as breadcrumbs, oatmeal, rice or cheese and creating different flavours with herbs and spices. The combinations are endless.
Simple, Easy Meatball Recipe
These meatballs are baked in the oven. I prefer this since they need attention whilst in the oven. I prefer it to frying since there is no additional fat and there is less risk of them falling apart or losing shape. They are simply flavoured with mixed herbs and garlic. You can alter the flavour by using your favourite spices.
The sauce is a simple tomato, onion and pepper sauce with basil. I think it is the simplicity that makes this dish taste so good! Serve with pasta – I think spaghetti is best but any pasta shape will do.
Easy Meatballs With Tomato Sauce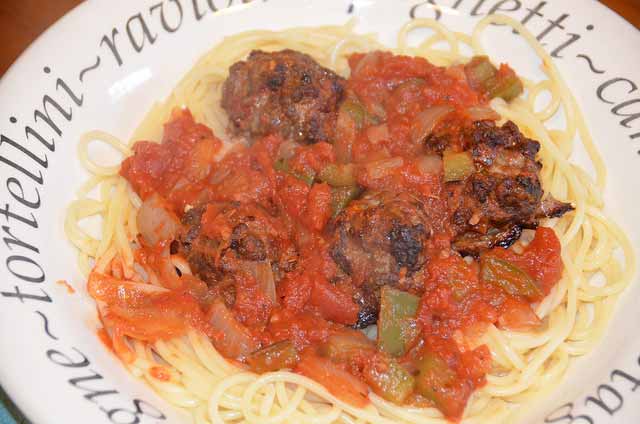 Serves 4
Ingredients
500g / 1lb

lean beef mince

2 cloves

garlic, crushed

15g

fresh wholemeal breadcrumbs

1 teaspoon

mixed herbs

1 teaspoon

tomato puree

1

egg, beaten

pinch

salt and pepper

1 onion

peeled and finely chopped

1 tablespoon

olive oil

1 pepper

deseeded and chopped

1 teaspoon

dried basil

1 x 400g / 14oz

can chopped tomatoes

400g / 14oz

pasta shapes / spaghetti
Cooking Directions
Pre-heat the oven to 180 degrees C
Lightly grease a baking tray
Place the meat, breadcrumbs, garlic, mixed herbs and tomato puree in a bowl
Stir well and season with salt and pepper
Add the beaten egg and stir well
Use your hands to bring the mixture together
Make about 16 small golf sized balls
Arrange them on the baking tray
Bake in the oven for about 30 minutes
Meanwhile make the tomato sauce
Heat the oil in a saucepan
Add the onion and cook for a few minutes
Add the pepper and cook for a further 5 minutes
Add the tomatoes and basil
Bring to the boil and gently simmer for 15-20 minutes, stirring occasionally
Meanwhile cook the pasta
Half fill a large saucepan with boiling water
Add the spaghetti and gently push into the water as it softens
Cook for 12-15 minutes until cooked to your liking
Serve out the pasta
Place the meatballs on top
Pour the sauce over
Enjoy!