Simple Macaroni Cheese
There are times when the simplest meals are the very best. Good cooking doesn't always have to be complicated. Something as simple as pasta in a cheese sauce, can be the comforting, easy meal you need that is light on the purse too.
Easy supper recipe with just a few ingredients, Macaroni Cheese is tasty and comforting as well as being easy on the purse.
Macaroni Cheese is a simple recipe made from just pasta, milk, cheese, flour and butter. People add cream to make it thicker, or may be spice it up with mustard or nutmeg but I think it is best in its purest, simplest form as depicted in this recipe.
You can make macaroni cheese with any pasta shape or type. I usually use penne rather than the smaller macaroni shapes. It can be made with white, wholemeal or spelt pasta – what ever you have in your cupboard. Just adjust the initial cooking time according to the packet instructions.
Make With Cheddar – Or Leftover Cheeses
Make with cheddar cheese or any full flavoured, hard cheese such as red leicester that you have in your fridge. Top with grated Parmesan if you like. Make it with leftover bits of cheese or a combination of cheeses.
A bit of leftover blue cheese would add some extra flavour.
Serving Suggestion
I always serve macaroni cheese with a green vegetable or a salad because it lightens the meal and adds some extra vitamins, and the vegetables are enhanced by the cheese sauce. Last time I cooked it I served it with cauliflower and peas. Both vegetables are great with cheese themselves and they make a delightful accompaniment.
Delis's All In One Cheese Sauce
I make the cheese sauce using Delia Smith's method of all in one because it never fails to give a smooth cheese sauce and in my opinion is easier than a roux sauce. So long as you continue gently stirring over a gentle heat until it is thick and smooth and allow it cook for a few minutes so the flour is cooked.
Macaroni Cheese – A Family Favourite
It has always been a favourite in my household as a basic, comforting meal. It is a meal that can be cooked when the budget is getting low at the end of the week or the end of the month – or just because you love it! And of course it is vegetarian – so long as you use a vegetarian cheese, so is suitable for everyone.
Cost for 4 people is less than £3.50 (exact amount depends on the cheese you use)
Macaroni Cheese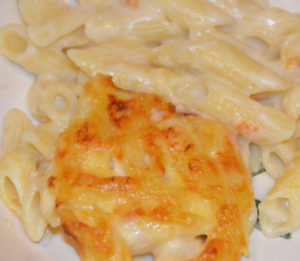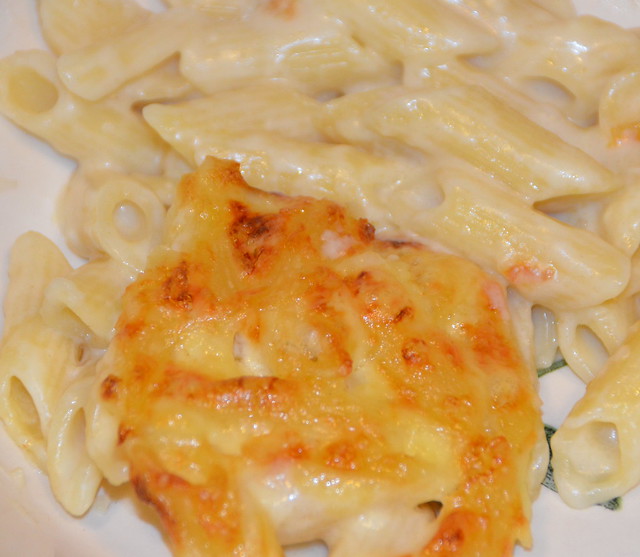 Ingredients
400g / 14oz

pasta shapes (penne, macaroni)

700ml

milk

25g / 1oz

butter

50g / 1.5oz

plain flour

150g / 5oz

cheddar cheese(or similar mature cheese) grated
Cooking Directions
Pre-heat the oven to 180 degrees C

Place the pasta in a large saucepan
Cover with plenty of boiling water and simmer for 10 -12 minutes or according to packet instructions.
Meanwhile, place the milk in a large, heavy bottomed saucepan
Add the flour and butter
Heat gently continuously stirring ensuring the flour and melting butter is thoroughly mixed
As the white sauce thickens, add 3/4 of the cheese and continue stirring
Simmer very gently for five minutes.
Remove from heat and set aside
Drain the pasta
Place in a large casserole or baking dish
Pour the cheese sauce over the pasta
Sprinkle the remaining cheese on top
Bake in a preheated oven for about 30 minutes, until brown and bubbling